UIndy hosts screening of "Bottom Dollars," a Rooted in Rights documentary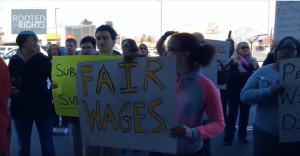 In partnership with Indiana Disability Rights, the University of Indianapolis will present "Bottom Dollars," a Rooted in Rights original documentary, at 6:00 p.m., March 28, at the R. B. Annis Auditorium in the University of Indianapolis Health Pavilion.
"Bottom Dollars" was created to "expose the exploitation of nearly 250,000 people with disabilities in the U.S. who are legally being paid less than the minimum wage, on average, less than $2 an hour," according to the filmmakers.
The documentary features personal stories and expert interviews with advocates who have been working on improving the employment opportunities for people with disabilities.
One in five Americans lives with a disability, and this group has the highest unemployment rate in the country. Many people with disabilities may feel sheltered work is their only option.
"UIndy's annual lecture series is focused this year on "Flipping the Script," encouraging students, faculty, staff, and our community to think critically and dare to imagine a different reality for the world," said Ellen Miller, University of Indianapolis Associate Provost of Research, Graduate Programs and Academic Partnerships.
A panel discussion will follow the screening. Panelists include: Jordan Melograna, director and producer of "Bottom Dollars"; Dr. Kathy Martin, University of Indianapolis Krannert School of Physical Therapy professor; Dawn Adams, executive director of Indiana Disability Rights; and Betty Williams, a member of Self-Advocates of Indiana, who has firsthand experience in sheltered work environment.
This event is free and open to the public, but seating is limited. Reserve your seat here. The UIndy Health Pavilion is located at 1643 E. Hanna Avenue, Indianapolis.