UIndy students give back for spring break
The University of Indianapolis Student Business Leadership Academy (SBLA) continued its tradition of giving back during spring break with a visit to Habitat for Humanity in Savannah, Ga., in March.
Six students participated in the University of Indianapolis Student Business Leadership Academy (SBLA) Habitat for Humanity trip to Savannah, Ga., in March 2017.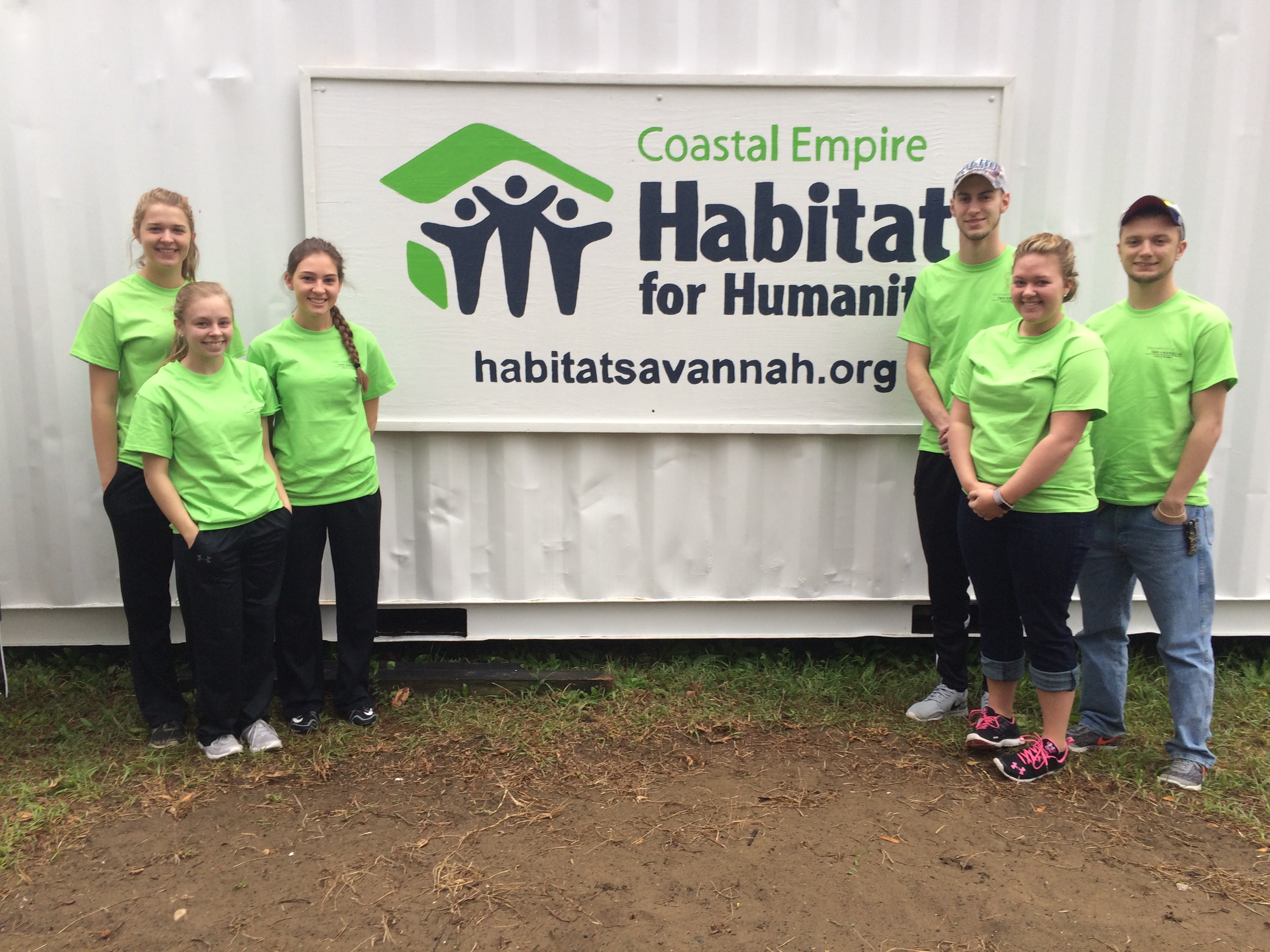 While Habitat for Humanity is the biggest service opportunity of the year for business students, it's one of many service-learning projects available throughout the year, including volunteer work with Junior Achievement and Christel House South.
"The philosophy of the School of Business is that free markets and capitalism are great inventions to produce wealth and enhance the standard of living of people. While students at UIndy learn how to create wealth, they also learn how to be good stewards of that wealth," said Matt Will, associate professor of finance who helped to arrange the trip.
Students were thrilled at the chance to give back – and learn valuable skills in the process.
"When Dr. Will asked me to plan and organize this year's trip, I knew it would be the perfect way to spend my spring break," said Olivia Vormohr, a business administration and management major.
With the focus on learning to work efficiently within a team setting, the SBLA students spent two days renovating a home and one day working at the ReStore shop. They sanded window frames, constructed wooden frames and put up siding at the home under construction.
Kali Miller, a business management major, said teamwork and communication made the trip a success.
"Some of the people I went with I had never talked to before. Each of us had to work with a diverse group of people to get the job done. I believe that this is a key skill that anyone needs in a career," said Miller, a freshman.
"Every work day brought new learning opportunities and strategies that taught us not only how to work together as a team, but also how to do so effectively and efficiently. As business majors, we were always looking for the most efficient way to do things!" Vohrmor said.
"Doing these tasks individually would be extremely tedious and time consuming. However, working as a team made the job much more efficient," said freshman Alex Yurack, a finance major.
Bryce Ahaus, an accounting major, added, "The skills I learned from the trip will help me in my future career because it helped me work with a team better and how to adapt to unforeseen situations."
"You get to meet so many different people. It's awesome to see everyone coming together to better their community. It is just a great feeling that you can't get elsewhere," said Miller.