University of Indianapolis honors retirees, career milestones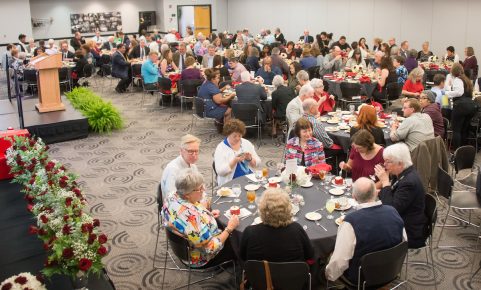 Nearly 650 years of experience and service were recognized last week when the University of Indianapolis hosted the 2017 Celebration Dinner, honoring faculty, staff and administrators who have reached career milestones or are retiring this year.
The honorees and their guests and admirers enjoyed a meal, conversation and award presentations Friday in UIndy Hall.
Bidding farewell, at least to full-time work at UIndy, were the following retirees, listed with their years of full-time service to the University:
Judith Apple-VanAlstine, Dean, Assistant Professor, School for Adult Learning, 11 years
Deborah Balogh, Executive Vice President & Provost, 10 years
Lang Brownlee, Chaplain & Assistant Professor, 21 years
Robert Burchfield, Director of Academic Support Services, 32 years
Lucie Cassinelli, Coordinator of Computer & Enrollment Services, Admissions, 32 years
Esen Gurtunca, Professor, School of Business, 42 years
Kathryn Moran, Dean, Associate Professor, School of Education, 14 years
James Ream, Associate Professor, Theatre, 44 years
Gregory Reinhardt, Professor, Anthropology, 28 years
Janice Thomas, Administrative Assistant, Office of Accreditation, 36 years
David Wantz, Office of the President, 34 years
Elizabeth Weber, Associate Professor, English, 23 years
Barbara Winningham, Assistant Professor, Director of Nurse Midwifery Program, School of Nursing, 19 years
Other UIndy employees honored for reaching service milestones were:
40 Years
Linda Handy, Office of Financial Aid
Suzanne Willey, Athletics
35 Years
Mary Moore, Office of Accreditation
30 Years
Mary Beth Bagg, Office of the President
Lawrence Sondhaus, History & Political Science
25 Years
Charles Boyce, Physical Plant
Marilyn Chase, International Services
Lucy Fields, Krannert Memorial Library
Ellen Miller, Center for Aging & Community and Office of the President
Jeffrey Oaks, Mathematics & Computer Science
See more photos from the celebration on UIndy's Facebook page.