UIndy master's program builds community leadership through public art

It's early on a Friday evening in May – before the crowds arrive at the Tube Factory in the Garfield Park neighborhood – and Big Car CEO and co-founder Jim Walker is talking about the powerful role the arts have in transforming and building communities.
Art is not just something you see in a gallery or museum, said Walker, whose expertise lies in social practice and placemaking, a type of art that leverages community assets to create public spaces that promote health, happiness and well-being.
"Instead of making a piece of art that's an object, we're making things happen," explained Walker, who brings that vision to a new, one-year intensive program at the University of Indianapolis. The new master's program in Social Practice Art, which is unique for Indiana, prepares students to become community leaders by leveraging the power of the arts.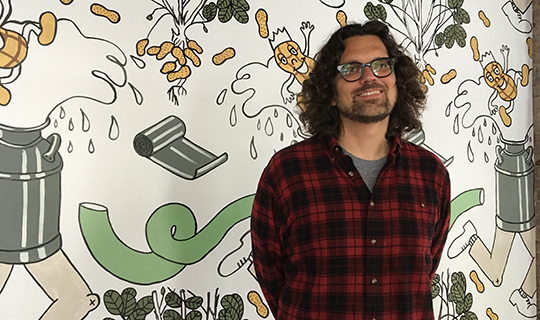 Developed by Jim Walker and Kevin McKelvey, associate professor of English, the program connects students with degrees in art & design, theatre, dance, music or creative writing with community stakeholders to engage in social practice and creative placemaking. The result is a participatory art form that empowers and transforms communities, and one which has been gaining in popularity in recent years. Walker and McKelvey will oversee the program, which is still accepting applications for the fall of 2017.
The vibrant atmosphere of the Tube Factory provides the perfect backdrop to talk about the University's MA in Social Practice Art program, as it represents an example of social practice art in action. The formerly vacant 12,000-square-foot building on Cruft St. has been renovated into a welcoming space where the Big Car arts collective, founded by Walker in 2004, hosts cultural events and partnership-based community meetings.
Related: Big Car launches affordable home ownership program for artists
Walker pointed out the value of bringing art to underserved neighborhoods and giving residents an outlet to voice their opinions. The program will also focus on grant writing, social entrepreneurship and community sociology.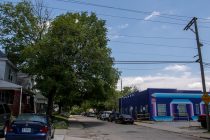 "Art and culture are important elements of everybody's lives, so the kind of art that we're working on here actually seeks out input from community members. When they're invited to participate, it's a way to show people that art isn't some kind of exclusive thing. In that way it can help make a difference for the community," Walker said.
In many ways, Walker's new role at the University is a logical extension of Big Car's south side success story. Walker, who lives in the Garfield Park neighborhood, is a well-known community builder on the Indianapolis arts scene. He has taught art history at the University of Indianapolis and art and writing at other area universities. Big Car held its ten-year anniversary exhibition at the Christel DeHaan Fine Arts Center in 2014.
The Social Practice Arts program builds on several of the University's community-partnership initiatives, including the Quality of Life plan for the Indianapolis south side, and the Gene and Mary Ann Zink Poverty Institute, a University initiative to end poverty driven by an evidence-based and outcome-oriented strategy.
Making a difference in local neighborhoods will be a key focus of the program. Students will have the opportunity to work at Big Car's Tube Factory, where they can learn to manage arts-related events and encourage community involvement. "This is a really good laboratory for students to learn in, get off campus and get involved. The connection between UIndy and our space is a pretty important one," Walker added.
McKelvey explained that the multidisciplinary approach of the program combines with the University's service-learning focus to attract artists who want to give back to the community. The program will embrace community involvement and prepare students to effectively lead and engage community leaders in projects that have a broad impact on the quality of life.
"From cities to smaller communities, these ideas around placemaking and social practice are really starting to take hold," McKelvey said.

Learn more about UIndy's Social Practice Arts Program here.
Written by Sara Galer, Senior Communications Specialist, University of Indianapolis. Contact newsdesk@UIndy.edu with your campus news.