David Wantz honored as community builder and mentor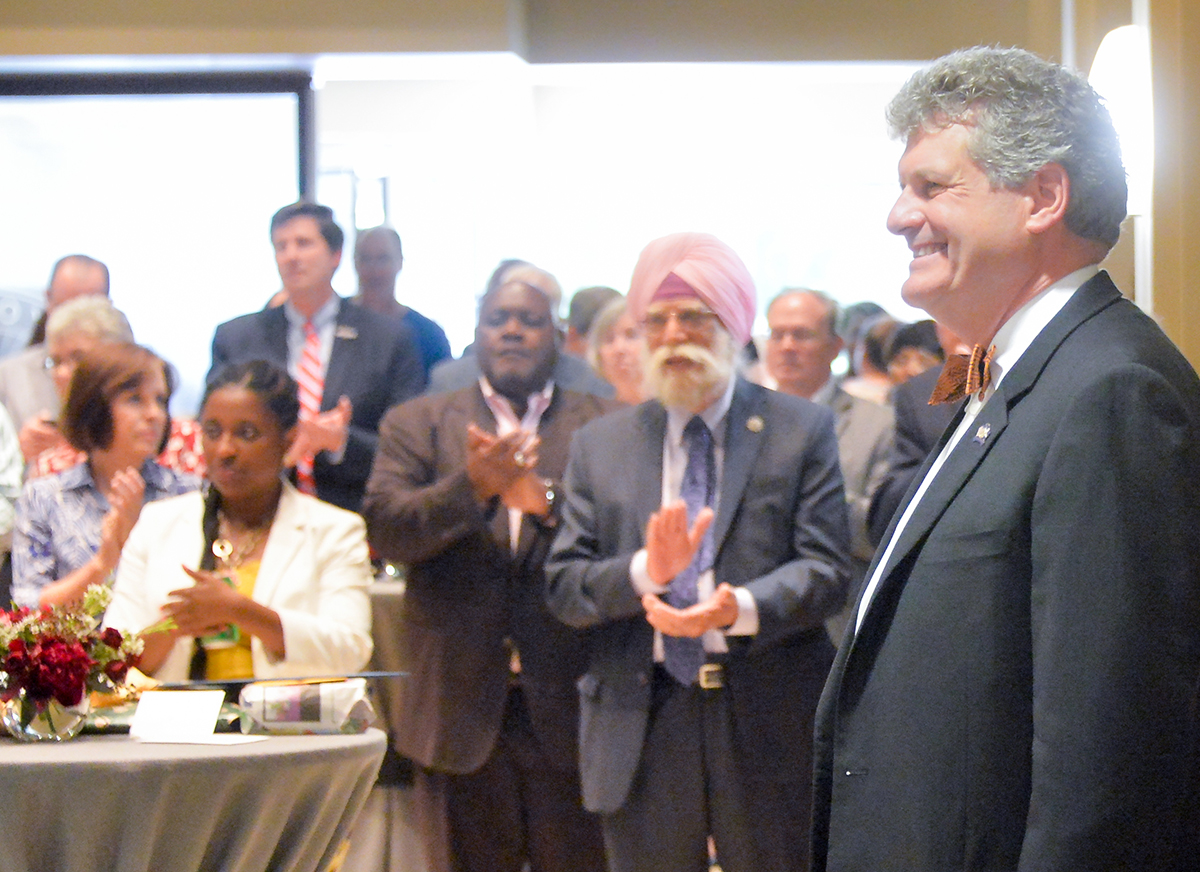 After 35 years at the University of Indianapolis, David Wantz leaves behind a legacy of connectivity that has helped to grow both the University and the surrounding community.

Wantz retired recently to take a new role as president of the Independent Colleges of Indiana, a local nonprofit that represents the interests of more than 30 private universities. In June, a large group of city, campus and community dignitaries gathered on campus to celebrate Wantz's contributions. Among those in attendance were mayors, several local legislators, an Indiana Supreme Court justice and neighborhood and community group leaders. The well-attended event spoke to the impact Wantz has made across the City of Indianapolis as a community leader, mentor and educator.

"With all due respect to the phenomenal leadership this great university has been blessed with over the years, I would suggest that no leader has meant more to the health, well-being, growth, prosperity and continued improvement of the university that bears our city's name – the University of Indianapolis – than David Wantz," Indianapolis Mayor Joe Hogsett said.
Wantz retired as executive vice president and provost, but he held many University roles since the early 1980s, including dean of students, director of corporate and foundation giving and as special assistant to the president for community and government relations. A psychologist, Wantz acted as teacher, mentor, counselor and leader to many students and employees across that time. It was this integration and reputation of his commitment to Indianapolis that will serve as his legacy as he leaves campus. Because he was a proud South Side resident, his ability to build bridges for the University with the surrounding community has left a proud tradition of partnership in the area.

"The University of Indianapolis has grown tremendously in the past 35 years, and David has contributed significantly to helping us to become what we are today–an institution built on academic excellence and community partnership. His contributions will impact the future of our campus for years to come," said University President Rob Manuel.

Wantz was honored as the South Side Times Person of the Year for 2016. Katie Carlson, a Garfield Park neighbor and public information officer with the Marion County Sheriff's Office, called Wantz the "ultimate connector" in her nomination letter, explaining that Wantz "uses his impressive networks from years of service in Indianapolis to connect people with great ideas, talent and generosity to each other, fostering growth and innovation throughout the community.""
When Indianapolis transitioned to new leadership in public safety, Wantz–a former police officer– was a logical choice by then-Mayor Greg Ballard, now a visiting fellow at UIndy, because of his extensive background in community development and connections across the city. Wantz briefly left the University to serve as interim director of public safety. Again, he answered the call when needed, Ballard said.
Wantz is the current chair of the Indianapolis Public Library Board of Trustees and a member of the Indianapolis Police Department Merit Board. Ballard said he learned early in his tenure as mayor that Wantz was a key community advocate, a good person to have on your side during a time of transition for the city.

"One of the first things you do as mayor of Indianapolis is meet David Wantz," said Ballard, who called him a role model for how to bring people together around an issue. "I think we all benefit because of his influence, his character, the way he treats people, his intellect, the way he connects people."
As an array of community movers and influencers gathered to recognize Wantz at the campus celebration, he remarked of success in the community as more about a spirit than it is a single person's work.
"What I see here is generosity – generosity of spirit, generosity of time and generosity of treasure. One of the reasons for our success at the University of Indianapolis is people who have been generous with those things. I believe that what we're trying to do can make this part of the world a better place. I'm grateful for that generosity and also the generosity that each of you has shown to me," Wantz said.
Wantz was honored with a second Sagamore of the Wabash award, the top award presented by the State of Indiana. He also received the award in 2013. Manuel presented Wantz with a chair embossed with his name and the UIndy seal and a first edition, signed copy of one of his favorite books, "A Soldier of the Great War" by Mark Helprin.

"I spent more than half my life at UIndy," said Wantz. "I met and married my wife, Susan, here. I won't miss it because it is part of who I am and will always be with me.""