UIndy building bridges with Burmese American Community Institute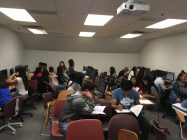 A partnership at the University of Indianapolis is strengthening ties with the local Burmese-American community. The Burmese American Community Institute (BACI) held the Upward College Program on campus this summer to allow UIndy students to collaborate with and learn from members of this growing immigrant community. 

BACI is a non-profit organization that provides social services, educational and vocational support to the Burmese in central Indiana. Roughly 16,000 refugees from Burma have made greater Indianapolis their home, and BACI expects that population to grow to 20,000 over the next five to ten years. These refugees are rebuilding their lives after fleeing a repressive military regime in their home country, where they feared persecution for their race, religion or political beliefs.

BACI's Upward College Program brought together around 50 local high school students to expose them to college-level research methods and academic writing. The group conducted research and formulated survey questions, which they will use to gather data about the local Burmese-American community.
Lian Sang, director of BACI's Upward College Program, explained that students determine the topics, which include political participation, cultural integration, higher education access, college persistence and teen pregnancy.

"The basic foundations of research can be useful for any field. We focus on research and methodology for the first few weeks, then they focus on their practicum," Sang said.

University of Indianapolis students provide valuable guidance to Upward College Program participants as they conduct their research. The result is an intercultural exchange that enriches the learning experience.
"Our collaboration with the Burmese American Community Institute gives us opportunities to engage our students with the Burmese refugees in Indianapolis through service learning and other community-based projects and help build a self-sufficient, thriving community in our city," said Marianna Foulkrod, Director of Service Learning & Community Engagement.

May Chele, a senior at Perry Meridian High School who plans to major in biology, has participated in the Upward College Program for two years. She said she's learned a lot about how to conduct research.

"At school, we mostly do research online, but here, we get more personal experience by going out into the community and hearing from people face to face," Chele explained.
Sang said the goal is not only to get students thinking in a more rigorous way about academics, but also to give back to the community. The research they conduct will be used to create recommendations to improve outcomes and work towards helping Burmese-Americans integrate with the broader community.

The University has strong ties to the local refugee community through the work of UIndy alum Cole Varga ('10, international relations), the executive director of Indianapolis-based Exodus Refugee Services, and Jyotika Saksena, associate professor of international relations, who serves on Exodus' board.
Written by Sara Galer, Senior Communications Specialist, University of Indianapolis. Contact newsdesk@UIndy.edu with your campus news.