Randi Frye unveils new mural in Krannert Memorial Library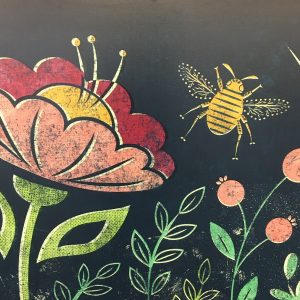 If you've visited the first floor of Krannert Memorial Library recently, you've probably seen Assistant Professor Randi Frye's latest artwork.
Frye says the 5′ x 10′ mural, "Field of Dreams," and the accompanying animation, "Electric Fields of Flowers," builds upon a narrative theme inspired by her deep passion for the natural world and a love of various folk art traditions. The piece took nearly 200 hours to complete.
"It was also for me an exploration of scale, color, shape and texture. I took visual cues from printmaking and mid-century illustration. My goal was to imbue as much digital texture as possible into the large scale of the mural, a technique that I hope to push further in future works."
Frye says the animation allowed her to take the theme one step further by adding movement and exploring the passage of time.