Alumni breakfast recognizes nearly 300 Greyhounds employed at Eli Lilly

Nearly 300 University of Indianapolis alumni have worked for Indianapolis-based Eli Lilly and Company, a global healthcare leader and Fortune 500 company. The University held a special gathering this month to recognize their impact and the connections they've made worldwide. Several UIndy faculty and staff members reconnected with their former students at an alumni breakfast.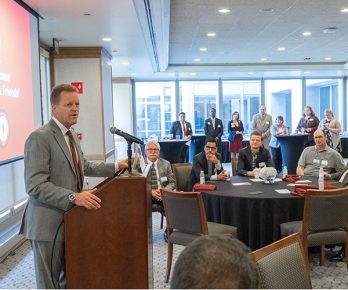 The breakfast was hosted at Lilly headquarters by Stephen Fry '87, UIndy Board of Trustees vice chair and senior vice president for human resources and diversity at Lilly, and Kent Holaday '92, UIndy Alumni Association Board of Directors president-elect and consultant for global sample management at Lilly.
Fry, who joined the University's Board of Trustees in 2012, attributes his career with Lilly to a phone call made by the dean of the School of Business when he was a student searching for a summer internship.
"If it had not been for that phone call, I'm sure I would not have ended up being here at Lilly for 30 years," he said.
UIndy President Robert Manuel welcomed guests and provided a campus update. He urged alumni to connect with the University's Office of Alumni and Professional Edge Center to help build relationships that create opportunities for students.
Attendees also heard from UIndy students Danielle Sparling '17 and UIndy student Tyler Walden '18 who interned at Lilly this summer.
Walden is in his senior year at UIndy, majoring in business administration with a focus in supply chain management. He says he was able to make some great post-college connections during his summer internship with Lilly. "I now have a spot on my resume that stands out, thanks to Lilly and the University of Indianapolis," says Walden.
For Sparling, the Lilly/University of Indianapolis Nurse Education Program reinforced her love for the profession and excitement about the next opportunity. On her last day in the Lilly internship, she learned she officially had been accepted to the UIndy nursing program.
"One of the Lilly doctors told me, 'You're best at what you love, and if you do just that, success will follow.' I've never been happier for my chosen career path and can't wait to see what the future holds," Sparling said. Read more about Sparling's story here.
UIndy alumni interested in providing mentorships and opportunities for UIndy students can connect with the Professional Edge Center via email at proedge@uindy.edu.