UIndy Real Estate Development program hosts the Urban Land Institute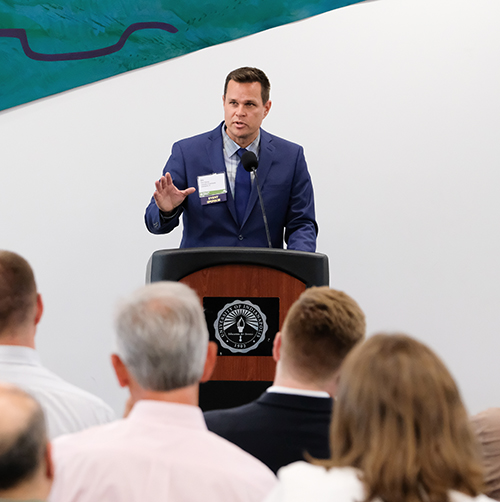 Event strengthens relationship between industry, graduate program
The Master of Professional Studies in Real Estate Development program at the University of Indianapolis hosted the Urban Land Institute for a cocktail and conversation hour on July 27. Strategic Capital Partners, who helped develop the UIndy Health Pavilion in which the event took place, spoke on public and private partnerships in community development.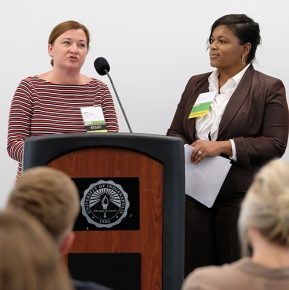 In addition to industry professionals, members of the UIndy real estate master's program took part in the discussion. Mike Patarino of Keystone Realty Group is an instructor in the program and believes the event complemented the material presented in class.
"Kris Farrar (of SCP) discussed the nuances of working with local governments and local communities and how to achieve success not only for the developer but also the surrounding neighborhood. In class, we discuss real-world situations and apply what we have learned. This ULI event was perfect timing and strengthened the concepts that the students are learning," Patarino said.
Logan Brougher is a current UIndy student and full-time intern with Greenstreet Limited.
"[The event] gave the students the opportunity to strengthen our professional network. It is this network that will serve as the foundation for our professional career, both during our tenure in the program and post graduation."
The MPS in Real Estate Development program continues to bring industry leaders to campus, with the next taking place Aug. 18. The Curriculum Council, which consists of 15 real estate professionals, will convene to discuss the content presented in the graduate program.
About the MPS in Real Estate Development: As the only program of its kind in the Midwest, the MPS in Real Estate Development is designed for entrepreneurs and working professionals that seek to advance their careers with a master's education rooted in industry best practices.  Courses are always one evening per week from 6-9:45. Applications for the August 31st cohort start are still being accepted.