New VP Sean Huddleston brings "all hands on deck" approach to equity and inclusion initiatives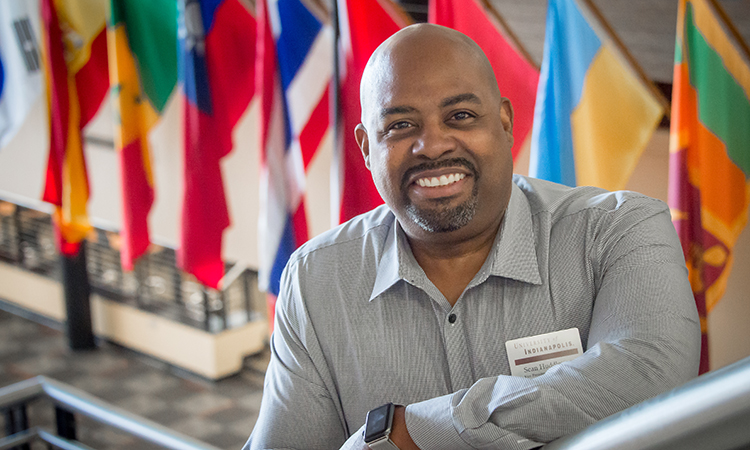 As universities across the country continue to become more diverse, the University of Indianapolis prepares students to succeed in this changing world by embracing new cultures and expanding intellectual life in communities near and far.
Students are enriched, academically and socially, by developing this inclusive mindset while in college–perhaps the most transformational time in their lives, according to Sean L. Huddleston, the University's new vice president for Equity and Inclusion.
"More students of color are coming in, more of them are first generation and more are coming from low-income backgrounds – three things perceived to be risk factors for success in college. Because of that, we have to have an environment that is not only inclusive of those students but helps us to achieve equitable outcomes," Huddleston said.
For Huddleston, it's not about providing preferential treatment to one group of people over another; it's about realizing that every group views and reacts to opportunities in different ways. To create equitable outcomes, the system itself (including education) must be equitable and accessible to everyone. He embraced this idea early in his career, which prompted him to pursue professional roles focused on workforce diversity.
Huddleston went on to teach supplier diversity and other courses at Cornell University before being hired full-time in the Division of Inclusion and Equity at Grand Valley State University–marking his induction into the evolving world of higher education and a realization of the value of supporting interculturalism on a college campus.
"I recognized that higher education and secondary education is ground zero for this work. College in many cases is the most diverse experience that students have when they get here," Huddleston said.
While there, he co-founded the Grand Valley State University Black Male Scholars program, served as community liaison on behalf of the university in diversity and inclusion efforts and worked closely with faculty and leadership to strengthen inclusion and intercultural efforts.
In a later role at Framingham State University, Huddleston designed a model for advancing inclusive excellence that was adopted throughout the institution as a framework for supporting diversity and inclusion. During his tenure, the university was presented with the prestigious Higher Education Excellence in Diversity Award. He also established an institutional Civic Learning, Engagement and Outreach initiative, the Inclusive Excellence Faculty Institute and the MetroWest College Planning Center to improve college access and readiness to underserved communities.
Learn more about Sean Huddleston here.
"Sean's entire career has been dedicated to creating equal opportunities for students, faculty and communities – a perfect alignment for this role at the University of Indianapolis," said University President Rob Manuel. "His reputation for innovation and experience building collaborative and inclusive cultures will support our mission of inclusivity throughout our university and build upon the institution's traditions while connecting our students, faculty and staff with the community."
At UIndy, Huddleston inherits a University with a strong history of supporting diversity and a network of community partners and resources to help support such initiatives.
He will lead the ongoing efforts to safeguard diversity and inclusion on campus, which has been fundamental to the University since its founding. He joins a leadership team responsible for exceptional growth through strategic planning and a commitment to expanding the institution's scope, both academically and through community impact. To continue to be successful, the University must be deliberate in creating an inclusive dialogue across campus, he said.
"This is an absolutely 100-percent 'all hands on deck' university effort initiative and practice. My intention is to make sure everybody has the opportunity to participate," Huddleston said, adding that campus-wide inclusion and equity forums in September and October will play an important role in involving the campus in future equity and inclusion strategy.
"The most important thing is continuing to listen and understand. I want to respect and find a way to support what's already in place, and identify the gaps to move things forward," he said.
As he continues to learn more about the University, its traditions and future, Huddleston also plans to focus on college access work, including the University's partnerships with K-12 schools and organizations focused on college readiness.

"As we help position UIndy as a good citizen and educational partner of our community, we'll have a lens on those underserved communities to support them in any way we can. We want everyone to know that college is possible and that UIndy is a place for them to come," he said.
His strategy involves working with faculty, staff and students to encourage interaction, build curiosity around culture and find ways to move past biases. In so doing, Huddleston says the University is creating an important knowledge base that students take with them into the workforce, resulting in employees who have a greater interest in successful intercultural exchanges.

"Culture is becoming more complex and more intersectional. Because of the increased complexity that's coming with the students from an identity perspective, we need to understand how to best serve them," he said.
Huddleston is married with three sons, with middle son Kyle enrolled at UIndy starting in fall 2017. A Detroiter at heart, he's thrilled to be back in the Midwest and treasures his time with family, as well as giving back to the community through volunteering. He has a soft spot for old school hip-hop, comedies, crime dramas like Law & Order and is currently on the hunt for the best barbeque in central Indiana.