Cancer talk series starts March 10 at UIndy
A series of panel discussions on cancer and related issues will begin March 10 at the University of Indianapolis.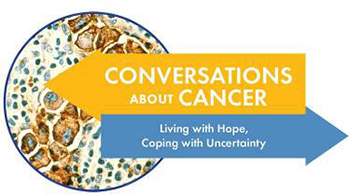 "Living with Hope, Coping with Uncertainty" is the first of three events in the Conversations About Cancer series, sponsored by WFYI Public Media and the Sound Medicine Radio Hour. Moderated by Sound Medicine host Barbara Lewis West, the conversation will explore philosophical and psychological issues, life-extending therapies, caring for caregivers and the role of palliative care. The panelists will include:
Iseminger

Karen Iseminger, Ph.D., a cancer survivor and professor in UIndy's School of Nursing and Center for Aging & Community

Dale Theobald, Ph.D., M.D., medical director for Community Home Health Hospice and Symptom Management Group
Larry Cripe, M.D., associate professor of medicine at IU Simon Cancer Center.
Free and open to the public, the program will begin at 6:30 p.m. March 10 in UIndy's Christel DeHaan Fine Arts Center, 1400 E. Hanna Ave. More information and registration details are available at www.wfyi.org/events.
The Conversations About Cancer series is presented in conjunction with the three-part, six-hour Ken Burns documentary Cancer: The Emperor of All Maladies, airing at 9 p.m. March 30 through April 1 on WFYI 1 (Channel 20). Based on the Pulitzer Prize-winning book The Emperor of All Maladies: A Biography of Cancer by Siddhartha Mukherjee, the documentary takes a sweeping historical look at the disease, interweaves stories about contemporary patients, and explores the scientific breakthroughs that may finally bring a cure.
Additional dates in the conversation series include:
"New Directions in Treatment," 6:30 p.m. March 18 at IUPUI Campus Center Theatre
"Spirituality and Cancer," 6:30 p.m. March 26 at Restoration Baptist Church, 1502 N. New Jersey St.
Each event will be videotaped and posted at www.wfyi.org. The conversations also will continue online at www.soundmedicine.org, where central Indiana residents are sharing their stories about living with and surviving cancer.