University of Indianapolis launches campus conversations for fall semester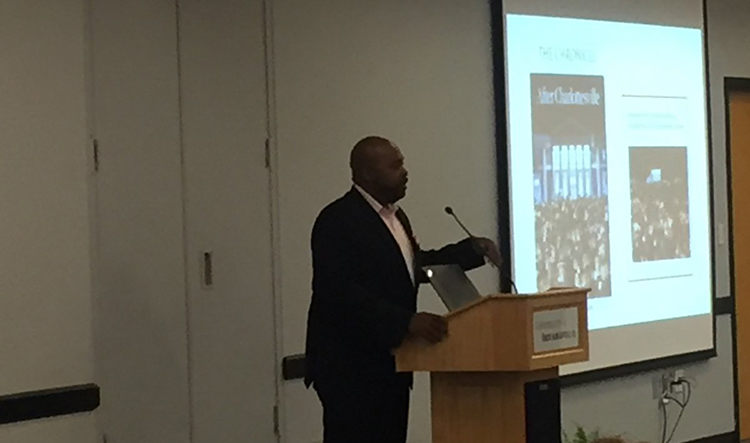 University of Indianapolis President Rob Manuel introduced the first of several campus conversations with a call to address the challenging issues raised by the violent protests in Charlottesville, Va. Open to faculty, staff and students, the conversations engage all university stakeholders in discussions about how to respond to complex events in meaningful and respectful ways.
Manuel acknowledged the university's responsibility and unique role in the community to create the opportunity for the discussions as it embraces diversity in a safe and welcoming environment.
"This particular conversation and others like it will begin to permeate the work we all do within the classroom or out of the classroom. For us to understand how to engage the question is really critical," Manuel said.

Academic freedom, free speech and civil norms all factor into the long-term goal of finding a framework to operate as a University, Manuel added.
Sean L. Huddleston, the University's vice president for equity and inclusion, called the discussion forums a "brave space" where participants could be challenged to confront their own biases. He urged attendees to continue the dialogue with the goal of considering constructive activism and connecting to each other in different ways.

"These conversations do become uncomfortable, but our charge is to find clarity through that discomfort," Huddleston explained.

Participants also heard from Ted Frantz, professor of history, who provided a historical context for nationalism in the wake of the Civil War.  Frantz noted that the tragedy in Virginia draws attention to a quieter form of racism that persists in society whereby minorities are blamed for other groups' economic decline.
Anita Thomas, dean of the College of Applied Behavioral Sciences, stressed the need for people to acknowledge their emotions during distressing events like Charlottesville and to determine their how they can best cope as individuals. "Sometimes it's important to just feel," she said.

More campus conversations are in the works for the fall semester. Check news.uindy.edu for updates.