Indiana makes significant investment in UIndy STEM teacher programs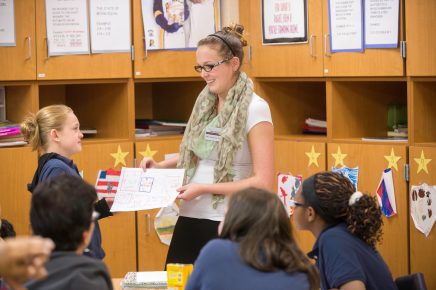 The Indiana Commission for Higher Education (ICHE) has awarded the University of Indianapolis nearly $2.4 million in grants to support the University's continued leadership as a major incubator for STEM teachers across the state.
The grants are part of a $9.6 million investment by the Commission to the STEM Teacher Recruitment Fund, created by the General Assembly in 2013 to put more STEM teachers in high-need classrooms across Indiana. Of those funds, UIndy's Teach Today: Transform Tomorrow Elementary Education STEM program was awarded $262,801. In addition, Independent Colleges of Indiana (ICI) received $2.1 million, support which is administered by the University's Center of Excellence in Leadership of Learning (CELL) to provide dual-credit credentials for current STEM teachers.
"The University is committed to leading the charge to fill these important STEM teaching positions that are critical to the long-term success of students across Indiana," said University Provost Stephen H. Kolison, Jr. "With the success of our programs–plus the continued funding support from regional and national education agencies–UIndy continues to positively impact high-need classrooms dedicated to STEM education."
$2.1M awarded to CELL/ICI

The $2.1 million was awarded to the STEM Teach program, a continuing education program for current teachers,designed by CELL in partnership with ICI. CELL will collaborate to organize outreach activities and meetings, a higher education course proposal process and organization of a leadership team to select courses or course sequences. ICI serves as the fiscal agent and leads communication with higher education leadership while also managing teacher participation and completion data.
CELL will manage day-to-day operations, including communication with K-12 teachers and schools, sharing process details with higher education institutions, development and operation of teacher application and registration processes, surveying participants, analyzing data, and generating reports to participating institutions and Commission.
"Rather than putting a financial burden on teachers to meet dual-credit credentialing, STEM Teach will provide free and easily accessible graduate courses in the STEM areas. While increasing teacher STEM knowledge, the initiative also helps teachers meet Higher Learning Commission requirements and ensures that Early College High Schools continue to support increased college degree attainment in Indiana," said Janet Boyle, CELL executive director.
School of Education
The STEM Teacher Recruitment Fund also awarded more than $262,000 to the University's Teach Today: Transform Tomorrow program. Nancy Steffel, director of the University's elementary education program and professor of teacher education, and Libby Turner, instructor, wrote the grant for the program, which promotes 21st century skills with a STEM focus. The program is delivered through the collaboration of the School of Education, Shaheen College of Arts & Sciences and the College of Applied Behavioral Sciences.
"Teacher candidates will learn what they need to teach, how to teach it and why they need to teach it all at the same time instead of the traditional sequenced order of content, methods and field experiences," Steffel said.
The Teach Today grant focuses on the recruitment of talented high school students who show an interest in STEM and teaching to work with them as early as the 10th grade to develop the mindset around becoming a teacher. Candidates will graduate in three and a half years with more training in STEM, along with concentrations in reading and special education.
Through the grant, inaugural candidates will receive a $1,000 stipend towards tuition and living expenses for their first year on the conditions that candidates complete the Elementary Education STEM program's first year with a 2.75 overall GPA, remain in the University's School of Education to earn their degree with a STEM teaching focus and teach in an Indiana elementary school for at least one year upon graduation.
The program also will network with CELL and the STEM Teach program to reach out to teachers who can recommend potential teacher candidates. The program will join CELL's Early College High School network meetings to help reach first-generation, socioeconomically disadvantaged and/or underrepresented population high school students.
The Teach Today program uses a cross-curricular model suggested by the National Science Teachers Association and the New Generation Science Standards. Courses will be taught as STEM or education blocks with corresponding labs and field work that support the candidates' learning.
That interdisciplinary approach has been crucial to the success of recent STEM initiatives at the University of Indianapolis, including the University's Teach (STEM)³ program funded through the National Science Foundation Robert Noyce Teacher Scholarship Program, which focuses on preparing secondary-level STEM educators. Although funded through separate grants, the two programs together represent the School of Education's commitment to meeting the need for STEM professionals and teachers at every level of K-12 through interdepartmental collaboration. Formerly the Woodrow Wilson Teaching Scholarship Program, Teach (STEM)³ has graduated more than 70 STEM teachers since 2008, many of whom stay and work in Indiana schools.