Internship brings engineering career into focus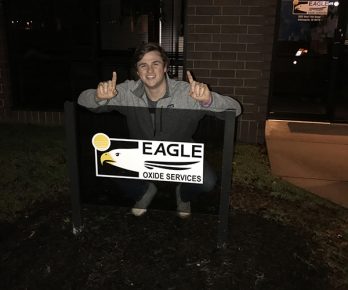 Jake Smith '20 (industrial engineering) knew he was making an impression at his internship last summer when his colleagues admiringly compared him to a "Swiss Army knife." Learning every aspect of the operation turned out to be the key to his success.

"It was everything from, 'Hey, Jake, there's some excess scrap metal on the floor to 'We have a new client, so we need this design and all of our engineers are working on it but we need extra help,'" Smith explained.

The Brownsburg, Ind., native transferred to the University of Indianapolis in fall 2017 to study industrial engineering at the R. B. Annis School of Engineering. UIndy's student-faculty ratio (12:1) appealed to him after he spent his freshman year at the University of Iowa, where there were up to 400 students in each engineering class. After taking a summer design class with Jose Sanchez, director of engineering programs, Smith knew UIndy was the right move.
"Everybody has the same goal – they want you to succeed just as much as you do," he said.
For Sanchez, that goal is for engineering students to emerge as problem solvers and critical thinkers, not just graduates trained out of a textbook. The hands-on learning in the R.B. Annis School of Engineering helps students to have an immediate impact in internships and future career opportunities.
Smith said his paid internship with Eagle Oxide Services, a subsidiary of Shelbyville-based Capital Industries, provided a valuable perspective. He played tennis and baseball year-round growing up and never had the opportunity for a part-time job. His internship was an eye-opening experience.
"It gives you a broad idea of the business field and the work life. It really just shows you what you're about to get into. The work ethic builds on you," he said.

The internship also gave Smith the opportunity to develop his communication skills, especially when consulting more experienced colleagues before making decisions about ordering or researching expensive parts.

"If it doesn't match up, your company just lost $500,000 and it's not on anybody but yourself. You've got to talk to higher-up powers and people who have been there to learn the way," he said.
Smith's successful internship got him invited back for future summers. He's also looking into the possibility of other internships, including the Lilly summer replacement program, which is available to relatives of Lilly employees. Smith's father worked at Lilly for 37 years as a chemical and industrial engineer.
Smith said he was excited that "there are so many options" in his chosen career field of industrial engineering.