Paul Salamh contributes to research that could be game-changer for shoulder pain treatment
The path from research publication to practice implementation can be a lengthy one. However, some research is important enough that professional journals want to accelerate the movement from research to implementation. That's what happened recently with research conducted by UIndy Krannert School of Physical Therapy's Paul Salamh and several colleagues from around the world.
Salamh, assistant professor of physical therapy, was part of a research team that conducted a systematic review of the use of subacromial decompression surgery for adults with shoulder pain. This is a popular surgery used to treat shoulder pain that often occurs with age.  The team was made up of orthopedic surgeons, physicians and physical therapists from Finland, Canada, Denmark, Sweden, Australia, Norway and the United States. Salamh, who is a recognized expert in shoulder injury and rehabilitation, was the only American selected to serve on the team.
The group of researchers published their findings in the article "Subacromial decompression surgery for adults with shoulder pain: a systematic review with meta-analysis" in the British Journal of Sports Medicine (BJSM). The international research team concluded that, despite its popularity, the surgical procedure does not provide significant benefit in terms of improved function or decreased pain, and that given the risks and costs associated with surgery, subacromial decompression surgery should not be the preferred method of treatment for individuals with subacromial pain syndrome, commonly known as impingement.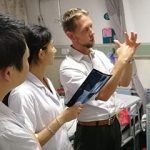 As a result, the British Medical Journal (BMJ), the parent publication of the BJSM, issued a "Rapid Recommendation" to accelerate the research evidence into practice. On February 6, 2019, the BMJ published a strong recommendation against subacromial decompression surgery.
Prior to the BMJ Rapid Recommendation, Cochrane, an internationally recognized organization that reviews primary research in evidence-based human health care and health policy, issued a review, on which Salamh was an invited author as well, that agreed with the recommendation against subacromial decompression surgery for those with rotator cuff disease that causes shoulder impingement.  
Salamh noted that this recommendation is likely to be met with mixed reviews by orthopedic surgeons and other healthcare providers, some of whom see the surgery as an effective procedure, while others believe it is over-utilized and unwarranted.
What the influence of the Rapid Recommendation and the Cochrane Review will have on medical practice remains to be seen, but in the past, they have led to medical practice policy changes as well as changes in reimbursement by insurance companies.
Written by Amy Magan, communications manager for the Center for Aging & Community and the College of Health Sciences.