UIndy alum James Hurrell keeps an eye on the storms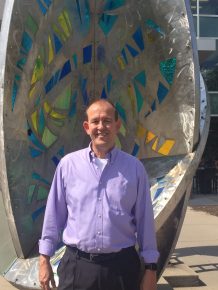 The recent string of powerful and deadly hurricanes is unusual but not unprecedented, according to James Hurrell '84 (mathematics and earth-space science), director of the National Center for Atmospheric Research (NCAR).

Hurrell, who received his doctorate from Purdue University in 1990 after graduating from the University of Indianapolis, joined NCAR as a postdoc that same year. After growing his career as a research scientist for the agency, he assumed a leadership role 15 years ago and has served as director since September 2013.
As Hurricanes Harvey, Irma and most recently Maria churned up a trail of devastation in the southern United States and the Caribbean, Hurrell discussed the role of climate change in the formation of such powerful storms. The hurricanes caused nearly 150 deaths and billions of dollars in damage to property, crops and infrastructure.
"Climate change plays a role by increasing ocean heat content and higher sea surface temperatures, and more moisture in the atmosphere. This make for more intense, bigger and longer-lasting storms," he said.

Those storms can occur in clusters, Hurrell explained, because a set of conditions tends to persist through a season or at least several weeks.
Predicting these powerful storms is crucial to public safety, and Hurrell called the forecasters' predictions excellent for both Harvey and Irma. NCAR works to provide all the latest scientific data and research to ensure forecasting models are as accurate as possible.
"Perhaps the biggest challenge for prediction is communicating uncertainty. People tend to focus on the center of the cone. For preparation, the hardest thing is to understand how to weigh uncertain information versus the hassle of evacuation and the difficulties this may pose," he said.
Rising sea levels – due to thermal expansion of the oceans and melting land ice – also exacerbate storm surges, which he said are often the most deadly and destructive aspects of hurricanes. He cited a recent Washington Post article by Kerry Emanuel of the Massachusetts Institute of Technology that explains that Hurricane Sandy would not have flooded Lower Manhattan if it had occurred a century ago when sea levels were lower.
The size and duration of Harvey and Irma led to both storms having a significant impact on residents in their respective paths.
"The biggest devastation was in the Islands with Irma. Both became very large and long­-lived storms, as we expect with climate change. Harvey was big enough that after it made landfall, it kept going by reaching out to the Gulf and bringing moisture into Houston, causing major flooding," Hurrell said.

Harvey brought up to 50 inches of rain over several days in some areas. "It lasted 70 hours before going back over the Gulf. The normal lifetime of a hurricane over land is about a day," Hurrell said, noting the tremendous damage the storm caused.
"Irma also was huge and was able to straddle Florida as it moved north, causing significant damage, but not the major devastation that would have occurred with a slightly different track and associated major storm surges," he added.
As far as recovery, Hurrell said it will take years, particularly for Houston.
"It will never be the way it was – ditto for many of the Caribbean island, now with Maria. It is possible that in the future, some properties will be declared uninsurable risks," he said.
Hurrell said he is fortunate to work at NCAR with other leading scientists and engineers, which he calls a world-class research center.
"Atmospheric science is a subject that impacts people's lives each day. People care about our work, and the research we do helps to protect lives and safeguard property: research in service to society," he said.
Reflecting on UIndy
He also reflected on his time at the University of Indianapolis, praising the close-knit community of faculty, administrators and students.
"UIndy was the foundation for all I have achieved professionally. The university then, as today, was absolutely invested in the success of its students from the moment they walk onto campus. I personally benefited from UIndy's strong commitment to individualized formation and teaching and a well-rounded liberal arts education," he said.
"These are not just words. If they were, my daughter would not be there now!" he added.