Indianapolis Quartet launches fall performance schedule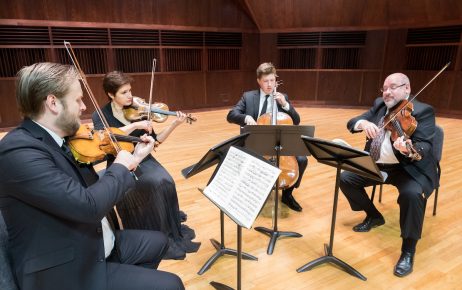 The Indianapolis Quartet returns Oct. 2 to perform at the University of Indianapolis, showcasing the world-class talent of the ensemble and the continuing partnership with the Indianapolis Symphony Orchestra.
The Quartet, launched in 2016 and featuring University music faculty and ISO musicians, has established itself as a marquee group in the regional musical community. Its members have earned international acclaim and reputations as being among the most elite musicians in the area. With renewed support from the Christel DeHaan Family Foundation, the Quartet will continue to expand its audience, nationally and internationally.
"The Indianapolis Quartet features some of the best musicians in the world who have set forth on a trajectory for growth that will extend well beyond Indiana as the ensemble becomes synonymous with musical excellence," said Brenda Clark, chair of the Department of Music at the University of Indianapolis.
The Quartet will deliver a free performance at 7:30 p.m. tonight in the Ruth Lilly Performance Hall in the Christel DeHaan Fine Arts Center. RSVP is requested.
The performance will include major works associated with Vienna, from the classical procedures in Beethoven's G-Major Quartet, Op. 18, No. 2, to the lyrical intensity of Johannes Brahms in his A-minor Quartet, Op. 51, No.2. The three-time, Grammy-nominated clarinetist Todd Palmer joins the Quartet for Mozart's eloquent 1789 masterpiece, the Quintet for clarinet and strings, K. 581.
The Quartet consists of ISO concertmaster Zachary DePue, Joana Genova, second violinist violist Michael Isaac Straus and ISO principal cellist Austin Huntington. Genova recently joined the University as visiting instructor and director of Chamber Music initiatives and brings a wealth of international success as a musician, both in Europe and the United States. Genova most recently served as principal second violin Berkshire Symphony Orchestra is former concertmaster of the Manchester Festival Orchestra and member of the Brooklyn Philharmonic. Detailed information on the Quartet can be found at www.indianapolisquartet.com.
The Christel DeHaan Family Foundation recently awarded a $100,000 grant to support the Quartet. The DeHaan family is a longtime supporter of the Indianapolis arts community, including the University of Indianapolis. Christel DeHaan is the namesake of the Christel DeHaan Fine Arts Center, where more than 120 performances take place each year, entertaining more than 10,000 people.
"The University is extremely thankful to the DeHaan Family Foundation for its continued support, which will be critical to achieving the vision for the Indianapolis Quartet. The goal is to enhance the cultural fabric of our city and region through both performance and educational outreach," said University President Robert L. Manuel.
For more information about the Quartet performance and other cultural events, please visit events.uindy.edu.