Amber Clarke takes new role as pre-health professions navigator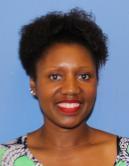 Amber Clarke is taking a new role as pre-health professions navigator for the University of Indianapolis.  In this role, Amber will work with students interested in pursuing graduate health professions education, which is a large percentage of the undergraduate student population.  Clarke will collaborate and cooperate with the pre-health students, faculty advisors, academic advisors, Professional Edge Center personnel, and undergraduate and graduate admissions counselors to provide seamless support to students navigating their pre-health professions pathway.
Clarke has been with UIndy for four years in the role of CHS Admissions Counselor.  She will be transitioning into this role over the next month as she continues to wind down her responsibilities in Graduate Admissions.  You can reach her at clarkea@uindy.edu or 317-788-3457 or visit with her face-to-face in the HEAL 270.