242nd Marine birthday celebration honors 94-year-old veteran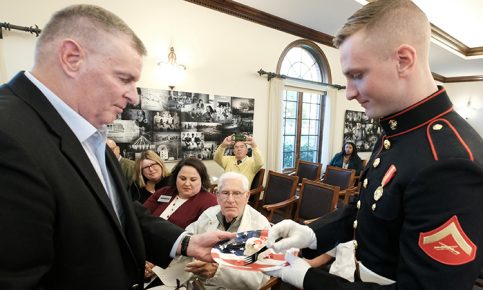 As the nation celebrates Veterans Day, a 94-year-old U.S. Marine Corps veteran is reminding Americans that they can honor veterans every day – just by saying thank-you.

Fred Wood is a former captain and fighter pilot who served in World War II and Korea. He was the guest of honor at the recent 242nd Marine Birthday celebration at the University of Indianapolis.

Wood, who first joined the Navy before becoming a U.S. Marine,  was stationed in the Pacific and fought at Okinawa. He flew F4U Corsairs airplanes in World War II and Medivac helicopters in Korea.
"I think the people today really respect veterans. They come up, and I get congratulations and thanks from just about anybody and everybody of all ages," he said, adding that he appreciates the respect he receives from strangers who notice when he's wearing his Marine Corps or World War II hat.
"It makes people remember and think," he said.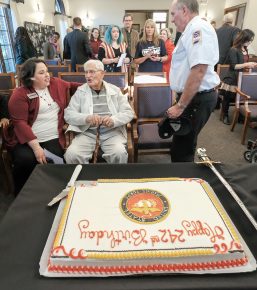 The Marine Birthday ceremony at the Stierwalt Alumni House paid tribute to Wood and to all men and women who have served in the U.S. Marine Corps. Former Indianapolis Mayor and University of Indianapolis Visiting Fellow Greg Ballard, a 23-year Marine Corps veteran, conducted the ceremony every year as mayor and brought the tradition to the University of Indianapolis in 2016.
"The University has been tremendous in all of this," Ballard said. He thanked University of Indianapolis President Rob Manuel, who attended the event as a guest of honor.
As the oldest Marine present at the ceremony, Wood participated in the passing of the first piece of cake to the youngest Marine in attendance. The gesture symbolizes the passing of knowledge from the experienced Marines to the new generation of Marines.

"I wish them well," Wood said of the younger generation who are carrying on the tradition. "These young people sacrifice every day and not everybody even knows about it, nor do they give it a thought."
Events such as the UIndy Marine birthday celebration and the Honor Flight, a national cause to escort veterans to Washington, D.C., to visit war memorials, help to remind veterans of the support they have from across the country.
"I stopped at the Arlington Cemetery, and that's the most impressive place. To see all of those graves and just think of those people who made a sacrifice for other people. That's special," Wood said.

"A Marine is one of the greatest things you can be," said Wood. "It's great because you get your discipline. You can get an education. You have great friendships that you have forever. I have another pilot friend who's also 94. We have memories that you can't replace."