Faculty mentors inspire history grad to pursue Stanford doctorate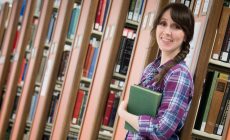 Lauren Judd '17 (M.A., history) was delighted to find one-on-one mentorship at the University of Indianapolis that allowed her to customize her field of study and pursue unique, hands-on work opportunities.
Lauren Judd first came to the University of Indianapolis knowing she'd have to get used to the academic spotlight. At Arizona State University, she had blended in with hundreds of students in larger classes.
"I'm not someone who likes to raise my hand and talk in class. I didn't feel like I needed a lot of one-on-one attention," she explained, adding that her UIndy instructors quickly put her at ease in the classroom.
"The professors wanted to challenge you, so it wasn't easy, but they also wanted to create a comfortable enough environment that you felt safe stretching and growing. It was never intimidating. They're just committed to helping you succeed," she added.
Looking back to May 2017, Judd now credits that personal attention to her success in landing a full-ride scholarship as a doctoral student at Stanford University, ranked among the top five in the U.S. News & Report's Best Colleges. Today, she's excited to explore her future because of the encouragement of mentors such as UIndy faculty members Jim Williams and Ted Frantz. Rather than discouraging her from pursuing her interest in medieval history, Frantz and Williams fueled her passions and supported her interests with new opportunities.
"They were aware that my focus was a little bit different. They didn't want to force me to research the same things the other students were interested in," Judd said.
Judd's thesis, "Crossing Boundaries: Female Saints, Heretics and Ecclesiastical Authority in Late Medieval Europe," focuses on women's spirituality in the Late Middle Ages and the factors that led to some women being labeled as heretics as the church sought to reinforce its authority.
"Dr. Williams [executive director of the Ron and Laura Strain Honors College] was very invested in helping me do what I wanted to do. When it came time to do my thesis, he coached me through the whole thing," Judd said. "I had a lot of one-on-one attention from him that I wouldn't have had if I had gone to a larger school."

Williams, associate professor of history, added: "Like all our master's students, Lauren was exposed to a broad curriculum that grew her appreciation of different periods of history, but she also had a particular interest for medieval history." said Williams.  

Judd had the opportunity to attend the Midwest Medieval History Conference, which sparked her passion for the subject as she saw the diversity of interesting work available to medieval scholars.

"Several months later, after she completed her master's thesis, she realized she could contribute to that work, too," Williams said.
Frantz, professor of history and director of the Institute for Civic Leadership & Mayoral Archives, suggested Judd take a position working with the University archivist, Mark Vopelak. She also helped to organize the Richard M. Fairbanks Symposium on Civic Leadership at the University of Indianapolis, hosted by the Institute. Her work included curating an online exhibit on public art and producing podcasts.
The goal, Frantz said, is to provide students with a wide variety of experiences to help them discover their natural aptitudes. In the end, it was those transformative experiences that led her to continue her education at Stanford University.
"I'm simply thrilled that UIndy helped nurture this remarkable talent," Frantz said. "Teaching and working with Lauren was a joy. She is a gifted writer, a tireless worker and someone who is willing to go the extra mile. Getting to work with her, and see her develop throughout her time here, was a treasure."
As her time at UIndy neared its end, Judd said her mentors gently nudged her toward pursuing graduate school. She learned later those relationships (and letters of recommendation) played a significant role in her being accepted to Stanford, along with her academic success.
As she embarks on this next chapter in her journey, Judd says she always will appreciate those people and programs at UIndy that helped shape her future. The next generation of students should embrace similar opportunities, she said.
"My mentors will be building on things I love about this program. They are invested in your success," she said.