Lebanon student earns prestigious Richard G. Lugar Award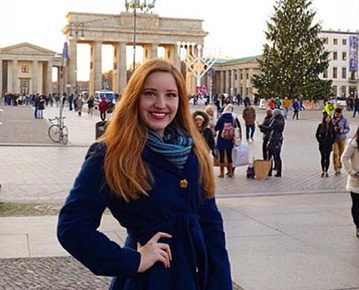 A senior from Lebanon High School earned the 2017 Sen. Richard G. Lugar Distinguished Student Leadership Award.
Julia N. Garrard will receive the $1,000 award from Lugar on Saturday, Dec. 9, during the 41st annual Lugar Symposium for Tomorrow's Leaders at Ransburg Auditorium at the University of Indianapolis. The event gathers more than 400 of Indiana's top high school juniors at the University for an expert discussion on pressing public issues and world events. Lugar will deliver a keynote address at 10 a.m.
"I am honored and humbled to receive the 2017 Richard G. Lugar Distinguished Student Leadership Award," said Garrard, who will give a short acceptance speech at the symposium. "I understand, however, that this is not a reward for past achievements but rather an investment in my future contributions to the public good. I look forward to rising to this challenge."
The highly competitive award honors students for academic success, leadership and a proven commitment to serving others. Each applicant must complete an application and draft an essay on one of three topics. Garrard chose to describe an example of how she showed courage while demonstrating leadership.
In her essay, Garrard discussed her experience as an exchange student in Germany, where she taught the German language to refugees who were fleeing violence in the Middle East and settling in Germany. She taught language lessons in a refugee camp, which she described as doing her "little part in the midst of this humanitarian catastrophe to build goodwill abroad for my country."
Kevin O'Rourke, principal at Lebanon High School, wrote in the award application about Garrard: "Julia is very committed to being a servant leader. She is incredibly active in our school and community in the service she provides to others."
The activities in which Garrard is involved include:
Student Council President

Exchange student to Germany

Thirst Project

Mayor's Youth Council

United Way volunteer

Lebanon Mentors Club
About the Lugar Academy
More than 15,000 promising students have participated in the Lugar Symposium during the past 40 years, including nearly 500 students last year, gaining wisdom, insight and access to some of the finest minds available. Principals from every high school in Indiana are asked to select three outstanding student leaders from their junior class to attend the Symposium. Lugar is a Distinguished Trustee, a former professor of political science and holds an honorary degree from the University of Indianapolis. The symposium that bears his name was launched in 1977 as an opportunity to discuss with students topics of local and global importance.
About the University of Indianapolis
The University of Indianapolis, founded in 1902, is a private, liberal arts university located just a few minutes from downtown Indianapolis. The University is ranked among the top Midwest Universities by the U.S. News and World Report, with a diverse enrollment of more than 5,500 undergraduate, graduate and continuing education students. The University offers a wide variety of study areas, including 109 undergraduate degrees, more than 37 master's degree programs and six doctoral programs. More occupational therapists, physical therapists and clinical psychologists graduate from the University each year than any other state institution. With strong programs also in engineering, business, and education, the University of Indianapolis impacts its community by living its motto, "Education for Service."