UIndy spreads message of life-saving text-to-911 Lifeline Law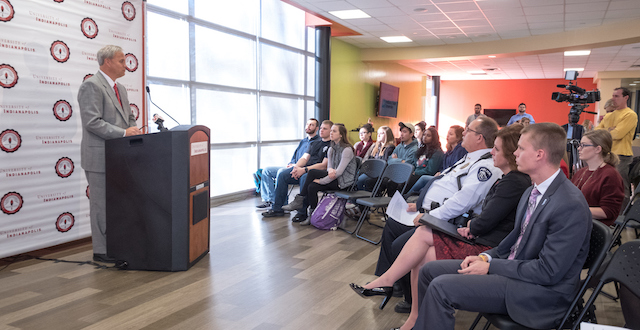 Advocates for the Indiana Lifeline Law and text-to-911 visited the University of Indianapolis campus Wednesday to make sure students know alcohol-related deaths are preventable. Help is available.
State Sen. Jim Merritt (R-Indianapolis) and State Treasurer Kelly Mitchell spoke, along with University Police Chief David Selby, Student Government President Jason Marshall and Make Good Decisions Advocate Stevan Stankovich.
"We've saved 43 lives to date (that we know of) because of the Lifeline Law," said Merritt. "Everyone makes mistakes, but we're here to encourage students to make good decisions when it really matters."
Alcohol poisoning kills a college-aged person every 44 hours, according to Indiana Youth Services Association's Make Good Decisions campaign. Indiana's Lifeline Law provides legal protection for underage drinking and many alcohol-related offenses for minors, for a person who texts or calls 911, and for the person(s) assisting, to report a medical emergency.
Stankovich spoke about an incident that happened nine years ago when he was a college freshman at Wabash College. A fraternity brother, Johnny Smith, came home extremely intoxicated, and Stankovich was tasked with watching over him throughout the night. Although the brothers were concerned about him, they decided not to call 911 and instead rolled him on his side to sleep it off.
The next morning, Smith was unresponsive. The boys tried CPR, called for an ambulance, and watched as he left the house in a body bag.
"I didn't realize people could die from drinking too much," Stankovich recalled. "I felt responsible for his death and I fell into a depression fueled by guilt. I still feel terrible, because this was completely preventable."
Selby reminded students of a University motto: "If you see something, say something. You never know when your actions could save a life."
The most important things for students to know:
Know the signs of alcohol poisoning, which include unusual confusion, repeated vomiting, loss of bodily functions and pale or bluish skin. See a complete list of warning signs

here

.


If you're concerned about someone who drank too much, you should call 911 or text 911 immediately for help. Make sure to include your location in the text message.