From engineer to STEM teacher: Program sparks career transformation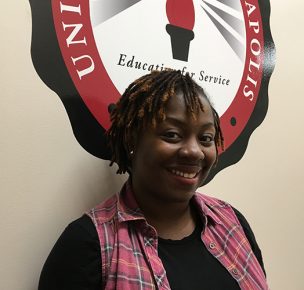 Jas'Minique Potter '18, a student in the University of Indianapolis Teach (STEM)³ Program, discusses the built-in mentorship, preparation and support that foster an exciting career change from engineering to teaching.
Jas'Minique (Jazz) Potter '18 (MAT) is always amazed when she asks students what they think engineers do.
"A lot of people think I get my hands dirty or I'm working with a train – things they learned from watching television shows. But it's so much more than that," Potter said. "There's engineering in everything – even in the chair you're sitting in."
As an engineer for Rolls-Royce Corp. in Indianapolis, Potter designed structural components for aircraft engines. Now she is translating that knowledge and field experience to her dream career of teaching STEM to high school students through the University of Indianapolis Teach (STEM)³ Program.

Her goal is to prepare students for the workforce of the future.
"It's about getting students to think about how technology impacts the world and the jobs they'll have when they're older," Potter said.
The Teach (STEM)³ Program, funded through the National Science Foundation Robert Noyce Teacher Scholarship Program, focuses on preparing secondary-level (middle/high school) STEM educators. The program meets a growing local and national need by bringing professionals from STEM-related fields to pursue a teaching career.
Potter joined the program in 2017 after working for several years as a design engineer at Rolls-Royce, a leading industry supplier for aircraft engines and other industries. She will graduate in 2018 with a Master of Arts in Teaching (MAT). The Robert Noyce Teacher Scholarship Program includes a stipend which allows candidates to complete the intensive, one-year program without undue financial hardship. Candidates must commit to serve as middle or high school STEM teachers after graduation.

"I felt like this program was a perfect combination of things to help me get to my dream to become an educator. I was trying to find the time to transition into the education field and really pursue my passion," Potter said.

The University's Teach (STEM)³ program is designed for career changers who have a STEM-related degree coupled with a passion for pursuing a teaching career. The program includes a clinical residency, a unique graduate experience that offers candidates the opportunity to partner with a master teacher in a classroom throughout an entire school year while simultaneously completing their coursework to obtain the MAT and teaching license. Potter is teaching a geometry course to sophomores at Ben Davis High School in Indianapolis for her residency.
"One of the things that stuck out to me about the program was that it was a one-year program that would get me the experience in the field prior to graduating and offered a stipend to fund my tuition," Potter said.

With a bachelor's degree in mechanical engineering and professional experience at Rolls-Royce, Potter is excited to apply her skills and knowledge in the classroom. Teach (STEM)³ allows her to do that immediately.

"The residency portion of this program has further reinforced my decision in choosing this program because I'm technically doing my first year of teaching with the support and feedback of mentors, professors, fellow teachers at Ben Davis and even fellow Scholars who are in the program with me," Potter said. "I literally get to take things I learn in class and directly apply them in the classroom and get feedback on the application."

That experience is a key component of the program.
"As a career changer entering the teaching profession, Jazz brings a wealth of practical knowledge she will be able to use to engage students in real-world math experiences as she designs engaging lessons," added Deb Sachs, Teach (STEM)³ Program director and assistant professor.
"I've learned so much in the program about how to get my students engaged and involved," Potter said, noting that her coursework and the clinical residency focus on addressing the needs of students from different backgrounds who have a variety of learning preferences. "Through the clinical residency, this program allows me to learn how to be an effective educator."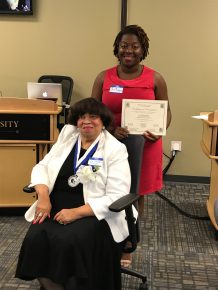 Potter was one of four students from across the state to receive a scholarship by the Indianapolis Alliance of Black School Educators at the 10th Annual IABSE Education Forum. Her scholarship was named in honor of Dr. Frankie Cooper, former IABSE president, whom she had the honor of meeting at the forum.

Before discovering the Teach (STEM)³ Program, Potter said she was "honestly scared to just take that leap of faith and go after my dreams and my passion." Now that she is running at full steam through the program? "It was just amazing to see doors open when you take that leap of faith."

Written by Sara Galer, Senior Communications Specialist, University of Indianapolis. Contact newsdesk@uindy.edu with your campus news.