Service-learning distinguished professorship awarded to Jennifer VanSickle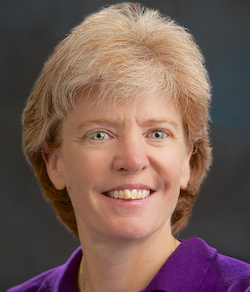 Jennifer VanSickle, PhD, professor in Kinesiology, Health, and Sport Sciences and director of the Sport Management program, was recently awarded the first University of Indianapolis Distinguished Professorship in Service-Learning. VanSickle will hold this professorship for three years, beginning in Fall 2019.
VanSickle has developed a long-standing academic-community partnership with the Special Olympics of Indiana, in which her sport management students host and coordinate the annual Special Olympics Indiana State Basketball tournament at UIndy. The tournament, which has taken place each year since 2010, is the only state youth tournament for Special Olympics basketball in the world. She has also incorporated service-learning opportunities for her students to provide youth spring and fall break camps at two Indy Parks locations since 2016.
"Jennifer's commitment to ongoing, consistent partnerships is most impactful," said Stephanie Kelly, PT, PhD, dean of the College of Health Sciences. "In addition, she has integrated her work with service-learning as a teaching strategy with her scholarly and service work as well."
VanSickle has published five peer-reviewed articles and made many national and international presentations about the structure and outcomes of her service-learning work. She has served on the UIndy Service-Learning Council since 2012 and was on the planning committee for two International Symposiums on Service-Learning.
As the Distinguished Professor for Service-Learning, VanSickle hopes to expand the Special Olympics project to other disciplines on campus, create more learning opportunities for students in conjunction with Indy Parks, and further her research on the impact of service-learning on both students and community partners.