School of Nursing to host statewide convention

The University of Indianapolis School of Nursing will host the Indiana Association of Nursing Students (IANS) 2018 Convention on campus January 26 – 27, 2018.
About 400 nursing students from across the state are expected to attend. The theme for the event will be "Nursing School Survival Guide." Workshops will prepare students for a successful career and provide valuable networking opportunities with peers and with representatives from various community partners in the healthcare field.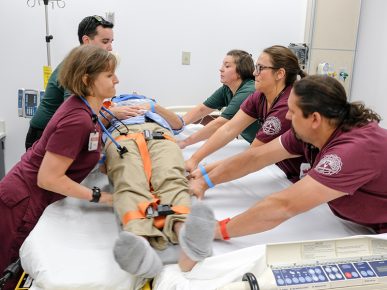 Jane Toon, associate professor of nursing, helped organize the event. She said it's exciting to host this conference because it's the first time the University will host an event of this type and magnitude.
"We are honored to be asked to host this event since it means that UIndy is well-respected in the community at large, as well is within the healthcare field," Toon said. "UIndy has had its own Student Nurse Association for many years, but this brings the University's involvement in a student-led nursing association to a whole new level."
The graduate program in the School of Nursing at the University of Indianapolis is ranked among the best graduate nursing programs in the country, according to U.S. News and World Report. Nursing graduates work at many of the regional hospitals and contribute to Indiana's role as a national leader in healthcare and medicine. The School of Nursing also partners closely with Community Health Network for learning opportunities and community treatment options, some available at the UIndy Health Pavilion.
UIndy Student Nurse Association board members put in many hours outside of the classroom to help with planning and facilitation of this conference. One board member, Kasandra Strunk, was elected to the Indiana Association of Student Nurses board and has been instrumental in planning the conference and promoting it among her peers.
"Opportunities like this help our students develop into future nursing leaders," Toon said.
The conference will have large and small group opportunities for learning. Some sessions will relate directly to nursing school, such as a review for the national nursing licensure exam, general test taking tips, and stress management techniques. Other sessions will assist students in planning their future nursing careers, such as panel discussions with nurses in a variety of specialties and how to plan for graduate school.