Interdisciplinary programs prepare students to meet global challenges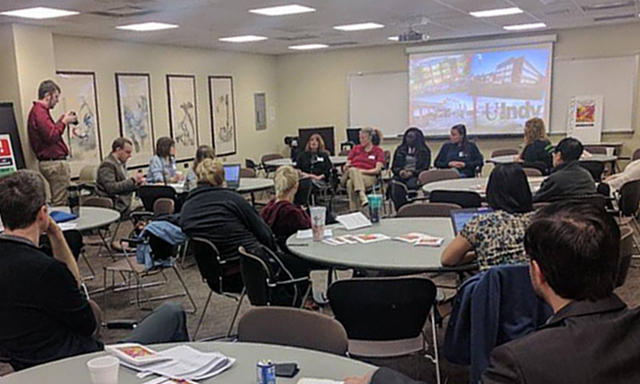 As the world becomes more interconnected, the University of Indianapolis is preparing students to become successful global citizens through programs that support curiosity and blend diverse areas of study.
The Interdisciplinary Studies Program at the University of Indianapolis "is designed to bridge historically separate disciplines and to enable students to engage the methodologies, theories and applications of interdisciplinarity," said Gerburg Garmann, dean of the program.
"Given that the future of research is interdisciplinary as data shows, we have to be intentional in creating alternative learning opportunities for our students — regardless of their declared traditional majors and minors," Gerburg said.
The program inspires students to seek out diverse perspectives as a way to prepare them to address complex issues as citizens of their local and global communities. A past example includes the Honors College course, "The Medieval Black Death Pandemic," taught by  Jim Williams, Honors College director and associate professor of history, and Amie Wojtyna, assistant professor of kinesiology. A collaborative 2019 spring term travel course, "Environmental and Literary Sustainability – A Side-by-Side experience in Germany," is slated to be offered by Garmann and Levi Mielke, assistant professor of chemistry.
From the School of Business to the College of Health Sciences, UIndy faculty are breaking down campus walls and creating a modern curriculum that best prepares students for the challenges ahead.
This shift in mindset is especially important in the health sciences, where patient treatment and related research continue to become more complex, said Laura Santurri, assistant professor and director of the Doctor of Health Science Program.
"We know that when professionals from multiple disciplines (e.g. physicians, nurses, physical therapists) come together, we are more likely to have a positive impact on the outcome of individuals, groups and communities. Understanding how to do this in effective ways is absolutely imperative," Santurri said.

"Few disciplines in business are as cross-disciplinary as entrepreneurship," added Marcos Hashimoto, assistant professor in the School of Business. "No matter the student's major, anybody can start their own business and be successful with this career choice."

The University currently offers nine interdisciplinary programs, including:
Interdisciplinary Majors:
Interdisciplinary Minors:
Interdisciplinary Concentrations:
Multilingual Translation & Conversation Studies

Community through Leadership and Community Engagement
These interdisciplinary programs serve about 100 students, with 28 faculty engaged in interdisciplinary teaching, research and performance. Garmann said the goal is to increase those numbers through a variety of initiatives, including the creation of an interdisciplinary minor, interdisciplinary study abroad and service-learning experiences as well as faculty-student research and presentations at local and national conferences. Two students – David Kurz '18 (sport management) and Rachael Walter '21 (exploratory) – will present their research on multilingualism and ADHD at the 2018 HERA Conference in Chicago.

"Quite a number of faculty from different areas are already involved. I would like to see an even more diverse faculty collaborate. New members are always welcome to join our interdisciplinary learning cohort where we develop team-taught course proposals in accordance with members' interests and project relevance," Garmann said.

Contact Gerburg Garmann ggarmann@uindy.edu if you are a faculty member interested in teaching an interdisciplinary course.