Undergrad research experience prepares Honors College students for IU School of Medicine

Two seniors from the Ron & Laura Strain Honors College will pursue medical degrees at the Indiana University School of Medicine in fall 2018. Lauren Bryant '18 (biology and psychology) plans to focus on child and adolescent psychiatry, and Casey Wendorff '18 (biology major, chemistry minor, pre-med concentration) will concentrate on sports medicine, specializing in the knee, foot and ankle.
Bryant and Wendorff recently presented research posters at the National Collegiate Honors Council conference in Atlanta, Georgia. Both students point to unique research opportunities gained by participating in Honors College that set the stage for their success.
"Honors College challenges you and sets you apart from other students because it shows that you are not afraid to push yourself to the next level," Wendorff said.
"The competition is fierce for those coveted post-graduate positions at medical, vet, and graduate schools," said Kevin Gribbins, assistant professor of biology and Honors project advisor to both students. Gribbins said UIndy's emphasis on pre-professional training and research launched Bryant and Wendorff to the top of the list at the institutions they applied to.

Bryant appreciated Gribbins' focus on showing students how to use their academic research as leverage during the medical school application process.
"He talked to me about how I can market that wherever I choose to go," she said.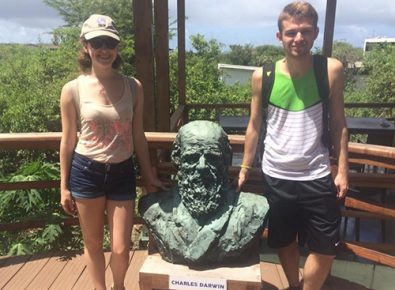 As the number of student applications rise for medical and graduate schools, Gribbins said institutions look for experiences that set applicants apart. UIndy's Department of Biology, in tandem with Honors College, provides a way for students like Bryant and Wendorff to distinguish themselves through a graduate school-caliber research program for undergraduates.
"Lauren and Casey are great examples of that work. They not only have the grades and the MCAT scores but they have research credentials and peer-reviewed publications that make them stand out among other applicants for medical school," Gribbins said.

Both students highlighted the opportunities they had at UIndy to develop and highlight the skills they will apply during their medical careers.
"My undergrad work provided me with the critical foundation of the principles, techniques and trends that I will learn and apply in medical school," Wendorff said. "Also, the knowledge and applications that I learned through classes in chemistry, physics, psychology and biology set me up to perform exceptionally well on the MCAT, which was key in being admitted to medical school."
Bryant appreciates the atmosphere of healthy competition that offers students the chance to excel. "All of the professors are very much into showcasing all of our researchers," Bryant said.

Personalized mentorship formed a key aspect of the UIndy experience for Bryant and Wendorff. In addition to research opportunities and academic support throughout their undergraduate studies, those relationships led to letters of recommendation crucial to the application process.
"Dr. Gribbins was very instrumental in helping me achieve my goals as he worked with me during research," said Wendorff, who received an athletic scholarship during his senior year for cross country and track.
"My coaches, Kathy Casey and Brad Robinson, both instilled a hard work ethic in me," he added.
"When I hit a snag, I always had a professor or advisor, someone reaching out their hand. I didn't even have to go find them. Someone was already saying if you need me, here's how to find me," Bryant said.
Doug Stemke, associate professor of biology and Bryant's pre-med advisor, was another mentor.
"Lauren is the type of person you want your physician to be. She is bright, always well-prepared, friendly, communicates well and leaves no stone unturned. She's always improving herself," Stemke said.
Just as students benefit from UIndy's teacher-student ratio, faculty take pride in student accomplishments.
"The greatest part for me is the opportunity to work with such amazing students in an atmosphere where we get to know our students as more than students, and we can advise them more closely to make sure they reach their very best as an undergraduate and that they have every opportunity to succeed once they leave UIndy. I think that is what we do very well in the biology department at UIndy!" Gribbins said.