University students earn prestigious music education award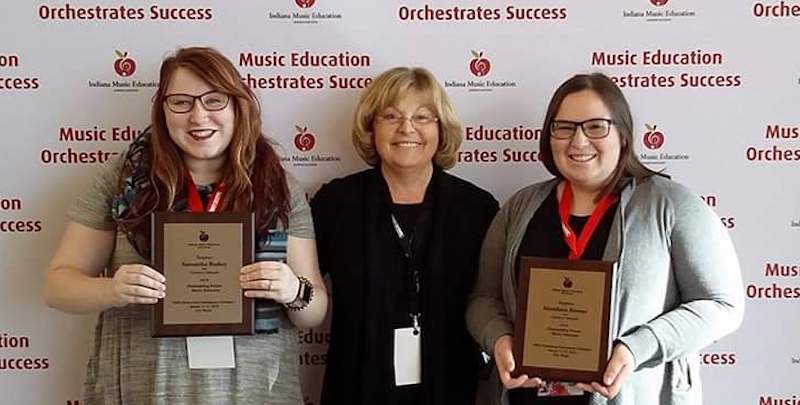 Hard work is paying off for two music education students from the University of Indianapolis.
Samantha Burkey, choral/general music education '18 and Maddie Kintner, instrumental/general music education '19, received the Outstanding Future Music Educator Award at the Indiana Music Education Association's annual professional development conference in Ft. Wayne in January.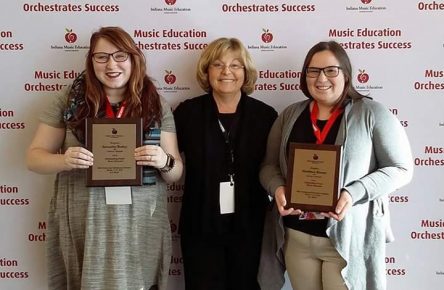 Burkey and Kintner are among an elite group of 18 University students to receive this award in the past 10 years. Burkey, who received news about the award a day into student-teaching, said the news was reassuring, because it let her know she's doing something great in the world of music education.
Through her classes, Kintner has logged at least 95 hours in immersive learning opportunities at regional band camps, in private lessons and in local middle school classrooms. She credits these experiences for helping her grow personally and professionally.
"It's one thing to learn from a book, but it's completely different to use methods in real-life settings," she said. "My professors constantly encourage us to be out in the field learning."
Burkey, who has shadowed and student-taught at four local schools and volunteered with College Mentors for Kids, echoed that sentiment.
"Starting freshman year, we go out in the field and observe elementary, middle school and high school classrooms," she said. "Those placements gave me a lot of confidence and comfort. I'm learned many different teaching methods that I'm holding onto in my bag of tricks."
To qualify for the award, students needed to demonstrate participation in their local NAfME chapter, academic rigor, and significant contributions to music education.
University student-teachers impact up to 700 Indianapolis Public Schools students every year by assisting teachers in classrooms. In 2017, the University chapter of the National Association for Music Education (NAfME) was recognized for its community outreach efforts to bring future music educators into classrooms.
Kinter said the University helped her discover one of her true passions: helping students who have disabilities. One of her favorite experiences has been giving private cello lessons to a seven-year-old boy who is deaf and blind. She's spent about 20 hours with him so far, and will resume lessons this spring.
"He can't hear music, but he can feel the vibrations," she explained. "When I helped him start bowing on his own, everyone in the room started crying. I've changed his life quite a bit, but I think he's changed my life even more."