University of Indianapolis announces 2018 Black History Month events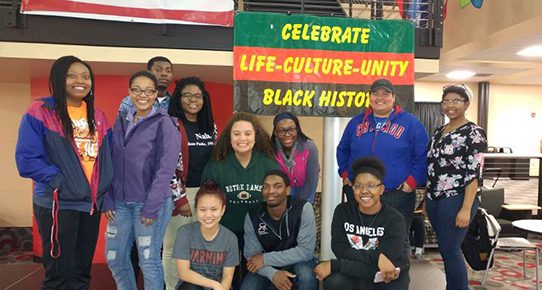 The University of Indianapolis celebrates Black History Month with a full calendar of events during February 2018, including a trivia night, an Open Mic Dialog and a formal dinner. Organized by the Black Student Association, events throughout the month are designed to increase awareness of the  achievements of African-Americans and their pivotal role in United States history.
A new addition this year to the robust line-up is the collaboration between BSA and the Office of Equity & Inclusion (OEI) for Feb. 15th's Open Mic Dialog on healthy relationships. Plans are in the works to involve several student organizations in programming for that event, said Darin Sills '19 (visual communication design), president of the Black Student Association.
"This is a great opportunity to partner with the Black Student Association and other student groups to spark conversation about what it means to be in a healthy relationship," said Sean Huddleston, vice president of equity and inclusion. He noted the growing interest in OEI's Open Mic Dialog sessions, which were launched in the fall of 2017.
Recording artist, TEDx and motivational speaker Shaun Boothe will be guest speaker at the Black History Month Dinner: "A Legacy of Excellence" on Feb. 28th. Boothe is the creator of the critically acclaimed "The Unauthorized Biography Series" which celebrates historical figures through biographical rap songs.
Sills encouraged the campus community to participate in Black History Month events regardless of ethnic background or identity.
"Events that we organize aren't just for a strictly African-American audience. We want everyone to come to all events," Sills said.
Schedule of events:
Jan. 31/Feb. 1: Stop by the BSA table in the Schwitzer Student Center to answer Black History Month trivia questions and pick up a sweet treat!
Feb. 2: Celebrating Black History Month: Heroes
6:00 – 8:00 p.m., Garfield Park Arts Center
Feb. 5: David Otunga (Diversity Lecture Series)
9:00 p.m., UIndy Hall
Feb. 7: BSA general body meeting
9:00 p.m., UIndy Hall A
Feb. 8: Praise and worship
9:00 p.m., The Chapel
Feb. 14: Anti-Valentine's Day
9:00 p.m., Trustees Room
Feb. 15: Love and Hip Hop UIndy (open mic dialog with Office of Equity & Inclusion)
9:00 p.m., UIndy Hall A
Feb. 21: Black History trivia
9:00 p.m. Shreve Atrium, Student Engagement Center
Feb. 24: Black Panther film screening
Location to be announced
Feb. 27: Neil Holborn – Spoken word artist
9:00 p.m., UIndy Hall A
Feb. 28: Black History Month Dinner: "A Legacy of Excellence" with speaker Shaun Boothe
7:00 p.m., UIndy Hall A