Business students lead the way for Straight Answer Saturday Feb. 10

INDIANAPOLIS – The Student Business Leadership Academy (SBLA) at the University of Indianapolis is spearheading a community event designed to help Indianapolis residents with free legal and financial questions.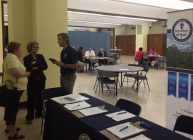 Straight Answer Saturday, held in the Schwitzer Student Center on the University of Indianapolis campus from 10:00 a.m. to 4:00 p.m., Feb. 10, 2018, is a free event that allows the general public to meet with attorneys and financial planners in one-on-one consultations. Professionals can answer questions about wills, power of attorney, saving for retirement, debt, taxes and more. Pre-register here.
The University has partnered with  the Indiana Secretary of State Connie Lawson's Office, the Indiana State Bar Association and the Financial Planners Association of Greater Indiana to host the event. Representatives from the following agencies will also be available: Social Security Administration, Indiana Better Business Bureau, Indiana Legal Services, US Department of Housing and Urban Development, Senior Medicare Patrol, AARP, Indiana Alzheimer Disease Center, CollegeChoice 529 and Indiana Department of Child Services.
"No judgment. No sales pitches. Just straight answers. That's our goal for Straight Answer Saturday," said Lawson. "My office created this event to ensure the citizens of Indiana can get legal and financial help in a stress-free environment, free of charge."

As project manager for Straight Answer Saturday, SBLA Vice President Alex Yurack '20 (finance) has gained valuable professional skills. Yurack was responsible for room set-up, food, security, parking and managing a large group of freshman business students to volunteer at the event.
"SBLA has been great for me because I have matured and grown comfortable in a business environment. Learning how to conduct myself in a business professional while I am still in college is a great thing. It's better to learn that now than to start once I have graduated," Yurack said.
Learn more about UIndy School of Business programs.
Kelly Griese, senior investor education coordinator for the Indiana Secretary of State, said the University has provided much more than a venue for Straight Answer Saturday.
"The School of Business brings so much more to the table. SBLA members are young professionals, and their work is exceptional. I can't say enough great things about UIndy's support of Straight Answer Saturday and how professional and driven these students are," Griese said.
Matt Will, professor of finance, acts as an advisor to the SBLA. He emphasized the benefits for students as they gain real-life experience in event planning and project management, as well as providing Indianapolis residents with access to free professional advice.
"We do this in part because it is education for service. It's for the community around the university and all over the city. It's also a great networking opportunity for our students to meet FPA or Bar Association members," Will said.

Mentorship is a key part of the process, from faculty and industry professionals to fellow students. SBLA President Shelby Winner '19 (accounting), '20 (MBA) guided Yurack through the planning process. She appreciates the guidance she received from faculty.
"Dr. Will has been a great mentor through this program. He truly wants what is best for his students, and through SBLA he has given his students the opportunity to learn how to be successful through real-life experiences," Winner said.