Local Rev. Rob Fuquay and Grammy-winning musician Bela Fleck to receive honorary degrees at Commencement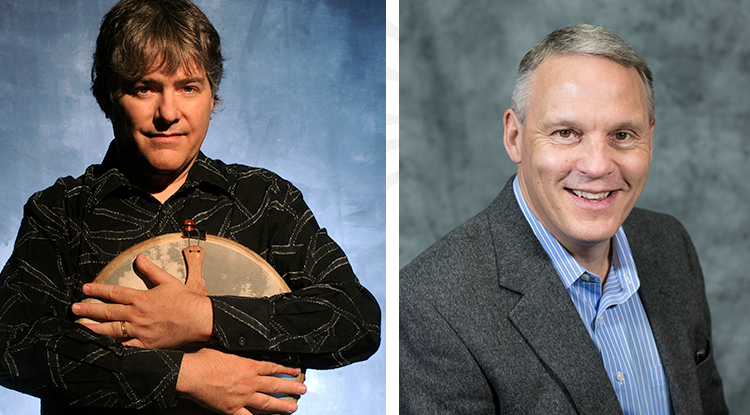 Although we have just begun our term, the University already is looking forward to recognizing inspiring leaders through honorary degrees at our May Commencement ceremony. Our honorary degrees are awarded to individuals who are innovators, leaders in their crafts and who embody the mission of our University. This year, I am pleased to announce that we will continue this storied tradition by awarding degrees that celebrate our United Methodist Church heritage and our commitment to arts and culture.
The University Committee on Honorary Degrees this year selected two worthy recipients. We will honor Rev. Rob Fuquay, who serves as the senior pastor of St. Luke's United Methodist Church – one of Indianapolis' largest congregations with more than 6,000 members. We also will honor Béla Fleck, a 16-time Grammy Award winner commonly described as the world's best banjo player. Both individuals have spent their careers carving new paths and inspiring others with their talents.
Rev. Fuquay is considered a leader in spiritual thought and guidance and has authored several books and course guides on religious topics. As the fifth senior pastor appointed at St. Luke's, he holds a strong position of influence and leadership in the UMC. He regularly shares his vision of bringing religion and inspiration to the entire community, not just his congregation. Throughout his career, Fuquay has served various congregations with his gifts of strong preaching, leadership development and visioning. Fuquay, who will deliver the keynote address at Commencement, has lived in Indianapolis since 2011 with his wife and three daughters.
The University of Indianapolis traces its roots in the United Methodist Church (UMC) back to its founding in 1902. The United Brethren of Christ first purchased 8 acres of property in the heart of the University Heights neighborhood to establish a college. Indiana Central University opened its doors upon the completion of Good Hall, and the University tradition of academic excellence officially began. The institution became Indiana Central College in 1921. By the late 1960s, the Evangelical United Brethren and Methodist churches merged, and the University of Indianapolis (officially named in 1986) has been part of the UMC since. The University continues to welcome diverse students, faculty and staff to campus, just as Fuquay supports the UMC mission as a welcoming church for all.
Equally important in the University's growth as a top-tier liberal arts institution is the long, successful history of excellence in music and the arts. The tradition of cultural impact in the city and region cannot be overstated. It is a proud story of growth and partnership, both with the surrounding arts community and the University Heights neighborhood. The campus is home to one of the best performance facilities in the area, the Ruth Lilly Performance Hall in the Christel DeHaan Fine Arts Center. Behind this rise to prominence is the University's history of embracing all forms of music and art and inspiring students to pursue their unique interests.
Béla Fleck continues this tradition by building his career through many diverse influences in all genres of music. He pairs the traditional banjo sounds of bluegrass and country with the improvisational freedoms of jazz and the more modern jam-band movement. He has played all over the globe and collaborated with artists such as Sam Bush, Chick Corea, Branford Marsalis, Victor Wooten, Dave Matthews and many more. The result of these influences is a unique sound and brand of music: his music.
He is lauded as both a solo artist and as part of successful groups such as New Grass Revival and Béla Fleck and the Flecktones. Throughout his career, Fleck has reinvented the image and sound of the banjo. Fleck has the honor of being nominated in more Grammy categories than any other musician, a testament to his love of music and courage to continually push the musical envelope. His music denies definition and embodies the possibilities of true artistic expression–something held sacred at the University of Indianapolis. Fleck will perform a song on his banjo at the May 5 Commencement.
Commencement provides the University community an opportunity to celebrate the hard work and achievements of graduates and the passionate staff and faculty who helped them reach this milestone. I look forward to celebrating this year with our entire community and to welcoming Rev. Rob Fuquay and Mr. Béla Fleck to campus.
Sincerely,
President Rob Manuel