Olympic connections abound at the University of Indianapolis

The University of Indianapolis celebrates Olympic connections as the 2018 Games get underway in Pyeongchang, South Korea. Here's a look at UIndy Olympians past and present.


Sotia Neophytou '20 (business management) is a member of the women's swim team and an Olympian who competed in the 2016 Rio Summer Games. She was the only female Cypriot to represent her country, swimming 1:02.83 in her heat for the 100 butterfly.

Dalton Herendeen '15 competed for Team USA Paralympics men's swimming in the London Games in 2012 and in Rio 2016 (achieving fourth overall in Rio).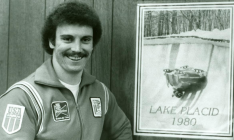 Dick Nalley '77, a football and track standout for the Greyhounds in the 1970s, competed in the 1980 Winter Games in Lake Placid, finishing fifth overall in the two-man bobsled. Nalley, who became a firefighter with the Indianapolis Fire Department, won the bench press gold medal at the Calgary World Police and Fire Games and the silver medal at the Sweden World Police and Fire Games. He was also eight-time Indiana State Bench Press champion. He passed away in 2002.
Randy Heisler '86, finished 17th in the discus in the 1988 Summer Games in Seoul, South Korea. Heisler was a track and field letter winner from 1981 through 1984, a three-time NCAA Division II National Champion and All-American from 1982 to 1984 and an NCAA Division II record holder. He was honored as University of Indianapolis Outstanding Male Athlete in 1984 and represented the United States 13 times in international competitions. He was one of the top throwers in the country for many years in the 1980s and 1990s, including the U.S. World Championship team in 1987.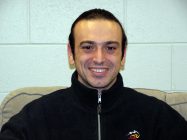 Orel Oral '04 represented his native Turkey in the 2000 and 2004 Summer Games, swimming in the 200-meter individual medley. Oral was a seven-time national champion for the Greyhounds in the early aughts. He is a seven-time NCAA Division II national champion and was named Swimmer of the Year in Turkey in 2003 and 2004.
Matt Royer '11, Greyhound throws coach, qualified for the 2012 U.S. Olympics Trials in the hammer throw, but did not make it to the Olympics. He was a three-time All-American for the Greyhounds.
Ned Shannon, the Greyhounds' head athletic trainer, works with the University's 23 sports and as an instructor in the athletic training curriculum. He is an approved clinical instructor in the Athletic Training Education Department and the main athletic trainer for football and wrestling. Shannon has participated as a volunteer athletic trainer for the 2005 and 2006 USA Outdoor Track and Field Championships, 2001 World Fire and Police Games, 1998 USOC athletic trainer for the Goodwill Games in New York City, volunteer athletic trainer at the U.S. Olympic Training Center in Colorado Springs, Colorado, and in that same year participated as a staff athletic trainer at Games of the XXVI Olympiad in Atlanta, Georgia.