Students collaborate with expert on Shakespeare comedy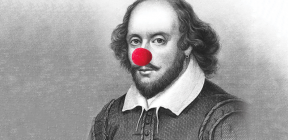 INDIANAPOLIS – Condensing 37 Shakespeare plays into 97 minutes is no easy task, but Bill Kincaid has done it with help from University of Indianapolis students and faculty along the way.
A dinner theatre production of "The Complete Works of William Shakespeare (Abridged)[Revised]" will be performed Feb. 23 – March 2 at the Schwitzer Student Center Dining Hall.  
Kincaid, guest director and a professor at Western Illinois University, specializes in Shakespeare, having worked on about 30 productions of Shakespeare's plays. He recently finished writing a book about unrehearsed Shakespeare, which will be published in April 2018.
"The play is written in a broad comedic style, requiring quick costume changes, sudden character transformations and high energy," he said. "The audience can expect lots of silliness, plenty of ridiculous jokes and a bit of audience participation."
Learn more about Department of Theatre programs.
UIndy students are heavily involved several areas of the project: as actors, designers, stage managers and even as assistant director. Kincaid says he helped bring the production to life by incorporating students' creative ideas and organizational skills into the project.
"When I thought about directing this play, I knew I wanted to expose the students to some mind-blowing ideas about Shakespeare, so they would have a better understanding of the material that the show makes fun of," Kincaid said.
In many rehearsals, Kincaid sat down with students to read closely through a speech or two from Shakespeare, pulling them apart and looking at them in detail. The experience gave students a more complete appreciation of Shakespeare's writing and influenced choices made in the production, he said.