Indiana Chief Justice Loretta Rush to deliver inaugural PLSA Lecture at the University of Indianapolis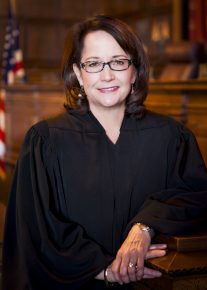 INDIANAPOLIS – Indiana Supreme Court Chief Justice Loretta Rush will be the featured speaker on Tuesday, March 6, 2018, for the inaugural lecture in the Pre-Law Student Association (PLSA) Judicial Lecture Series.
The event is scheduled from 6:00 to 8:00 p.m. in Ruth Lilly Performance Hall, Christel DeHaan Fine Arts Center.
Chief Justice Rush is the first guest featured in the PLSA Judicial Lecture Series, established by the Pre-Law Student Association, which benefits students interested in law and government and offers the University community a venue to learn more about Indiana state government.  Chief Justice Rush's lecture will focus on the importance that University of Indianapolis students will play in shaping Indiana's future in the coming years, in particular those looking to enter the legal field.
"There were 1.3 million cases filed in Indiana trial courts last year. The cases range from foreclosure to family violence to the drug crisis and much more," Chief Justice Rush said. "UIndy pre-law students should consider their role as future leaders to help meet challenges facing our communities. We need thoughtful and compassionate lawyers to ensure we continue to deliver justice in every courthouse across the state."

Dr. David Root, assistant professor of political science and PLSA and pre-law advisor, worked with PLSA Executive Board Members to coordinate the event.
"We are very excited about Chief Justice Rush's talk," Dr. Root said, "and look forward to hearing the state's top judicial officer share her thoughts on how UIndy pre-law students, and students in general, can work to impress their footprints on the future."
Jason Marshall '17 (political science with pre-law minor) is the first and previous president of the Pre-Law Student Association, which prepares future leaders in the legal field. He will begin his studies at Indiana University McKinney School of Law in Fall 2018 and said the lecture series is the start of a new tradition on campus.
"The PLSA Judicial Lecture Series, beginning with the Chief Justice of the Indiana Supreme Court, is another step in ensuring students are being offered the best knowledge in the field and the most up-to-date information on what is happening in our legal environment," Marshall said.
Calleigh Smith '19 (political science with minors in pre-law and Spanish) is the current president of the Pre-Law Student Association and appreciates what it means to the University of Indianapolis and the PLSA to have the most important figure of Indiana law visit and speak on campus.
"We are thrilled to have Chief Justice Rush come and speak at UIndy," Smith said. "It signals to us as UIndy students and pre-law students the critical leadership positions we will fulfill in the future, both as lawyers and community leaders around the state and everywhere Greyhounds go."
The PLSA Lecture is open to all University of Indianapolis students, faculty, and staff.  Contact Dr. Root at rootd@uindy.edu for details.

Mark this event on your calendar.