University of Indianapolis unveils new enhanced Digital Mayoral Archives

INDIANAPOLIS – The University of Indianapolis has unveiled a digital tool that enables students, educators and the general public to easily access information about four decades of Indianapolis civic history.
As part of its efforts to connect its vast collection of resources with a broader audience, the University's Institute for Civic Leadership & Mayoral Archives launched "Digital Backpacks," a free interactive feature in which a user can create a folder with various items from collections amassed during the administrations of Indianapolis mayors since 1968.
"The Digital Mayoral Archives enhances the University's ability to extend its reach beyond the campus," said Institute Director Edward Frantz. "By connecting to the history of our city, University students also are able to comprehend the way in which the past interacts with the present."
"We believe this will become a significant teaching tool in Indiana and an important resource for political scholars and armchair historians around the world," added Frantz, a history professor at the University of Indianapolis.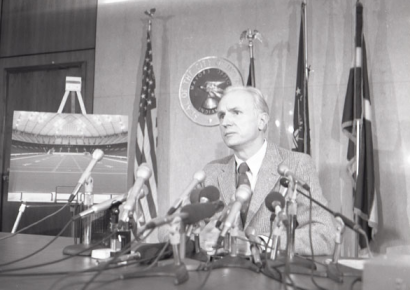 The backpacks feature is an enhancement to the Digital Mayoral Archives created as part of an ongoing partnership with digital history leader HistoryIT, a Maine-based company that leverages technology to improve access to historical archives. In 2013, HistoryIT began the process of digitizing more than 600 file boxes full of documents, images, recordings and other artifacts from the administrations of Indianapolis mayors Richard Lugar, William Hudnut, and Stephen Goldsmith, and from the records of Indiana politician L. Keith Bulen.

Today, more than 400,000 items, including previously confidential documents, are available online. Nearly 23,000 users have logged on and searched the Digital Mayoral Archives.

Former Indianapolis Mayor Greg Ballard now serves as a Visiting Fellow with the Institute, for which he leads leadership initiatives with students and community leaders. He has served a critical role in helping connect the Institute with political insiders from various administrations, and his network across the region has helped facilitate the growth of Digital Mayoral Archives collection.
The collection contains material of interest to political junkies as well as sports fans. It traces the history of Indianapolis as it developed from a sleepy Midwest city known only as the home of the Indy 500 into a vibrant, progressive location that hosts some of the largest and highest profile sporting events and conventions in the country.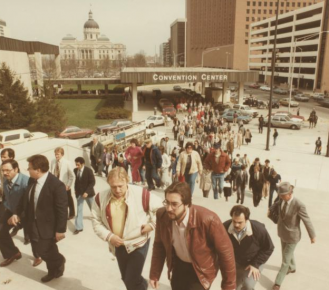 An exhibit called "Bringing the Colts to Indianapolis" highlights more than 600 items, from photos to promotional items, tied to the city's efforts to land an NFL team and turn Indianapolis into a sports capital. The Indianapolis Colts information is part of a larger story contained in the archives about the visionary efforts to reinvent an American city.
Online users can create a free Digital Backpacks account to save and share items from the site in their own folders. The backpacks can be used to store items about a particular person, location or item of interest. Teachers can save selected materials from several different collections to a single backpack for lesson planning, and students can compile and share digital primary sources to use for research and class presentations.
"The ability for anyone to customize these valuable collections in ways that are useful to them is an exciting step forward in our quest to make historical materials widely accessible," said HistoryIT Founder and CEO Kristen Gwinn-Becker, PhD. "We are grateful that the University of Indianapolis continues to recognize the value of preserving and sharing history in innovative ways."
About HistoryIT:
Headquartered in Portland, Maine,
HistoryIT
brings industry-leading expertise to preserve historical collections of all types and sizes and to make them easily accessible to audiences ranging from scholars to the general public. Clients include cultural institutions, universities, corporations, professional associations, sports teams and others.