Reimagining German Radio Hour on WICR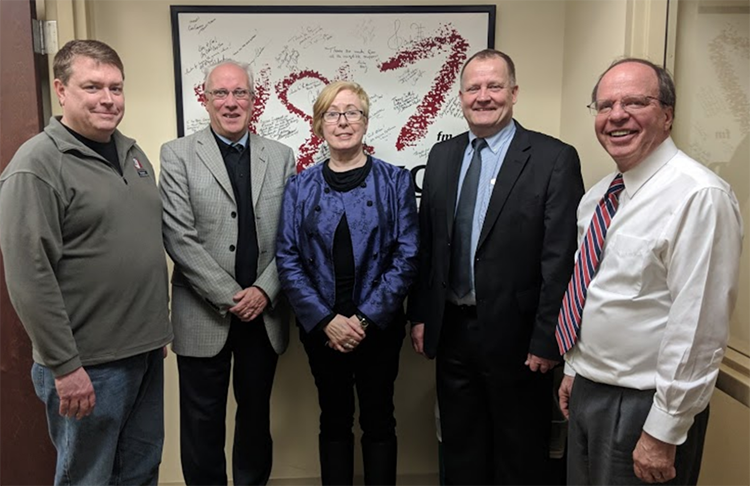 University of Indianapolis faculty recently consulted with  Andreas Goetze, Deputy Consul General of Germany (Chicago), and German Honorary Consul, Mr. Sven Schuhmacher (Indianapolis), to revamp the German Radio Hour on WICR, a program which has been aired for more than 30 years on Sundays between 1:00 and 2:00 p.m.
With more than 2,000 listeners every 15 minutes over the course of the radio hour and over 4,000 listeners at peak times, WICR has been successful in engaging and retaining a faithful audience over the years. In order to bring even more listeners in Indiana and beyond into the fold, several initiatives are underway to to reimagine the longstanding tradition of this show, including a strong local focus on German culture, language, and shared American and German histories.
"We hope that by revamping the German Radio Hour, we will strengthen our already existing German connections on the local level, help remind folks of the longstanding history of German contributions to Indiana's culture, of opportunities to celebrate German-American friendship, and tap into the wealth of opportunities local American and German companies could provide for UIndy students," said Gerburg Garmann, assistant dean of Interdisciplinary Programs.
Garmann pointed out that more than 60 companies in Indiana do business with Germany or German-speaking countries.
"With Germany being the fifth biggest trading partner of the United States, this initiative makes a lot of sense," she said.
Garmann also emphasized how the intended collaboration with other universities, colleges, and cultural organizations to build engaging radio hour content would make the University of Indianapolis an ambassador for cultural outreach.
Tune in on Sundays to WICR — 88.7 — The Diamond, at 1:00 p.m. to get a taste of the current Radio Hour, and stay tuned for the new format in October, on German Day!
Photo (left to right): Scott Uecker, General Manager of WICR-FM & Instructor of Communication; German Honorary Consul of Germany, Mr. Sven Schuhmacher; Gerburg 
Garmann
, assistant dean of Interdisciplinary Programs, professor of German & French; Andreas Goetze, Deputy Consul General of Germany; and Henri Pensis, Director of Programming WICR.