Qualls Video Walls in Health Pavilion enhance on-campus communication

New video walls, made possible by a generous donation from Edwin '84 and Pamela Qualls '84, bring new technology to the University of Indianapolis Health Pavilion to showcase student and faculty achievements.

The state-of-the-art monitors on display in the Health Pavilion atrium contribute to the dynamic ways the University is sharing information across campus. The video walls, which are powered through technology offered by Just Add Power, will be used to highlight student artwork, videos, notifications and emergency messages. Ed Qualls is president of Just Add Power, which specializes in video technology for distributing HDMI® over IP networks.

President Robert L. Manuel said the Health Pavilion was the perfect representation of how learning experiences and spaces have evolved since the University's inception in 1902.

"Throughout the past nearly 120 years, spaces and modes of teaching and sharing information have changed and never with such speed as in the past 25 years," Manuel said.

University Board of Trustees members Ed and Pamela Qualls, who met on campus as undergraduates in the 1980s, shared their story of how their experiences at the University of Indianapolis shaped their lives. Pam Qualls explained that she developed a lifelong commitment to education for service at the University.
"We began to realize how formative this university had been for all of us and now with all of our experience in life, we see that's not something that happens by accident. It's something that is created. A culture where you learn how to use your gifts to enrich other people's lives is rare and amazing," she said.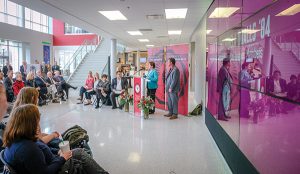 Ed Qualls said he hoped the installation of the video walls marked not the completion of a project, but instead "the beginning of an intentional effort to connect every screen on the whole campus together to enhance campus-wide communications."
The work of students from the arts and engineering disciplines was on display during a recent dedication ceremony. The display also celebrated the heritage of Indiana Central College and the University of Indianapolis with vector-based images of the campus community at different points during the 20th century.
Those maps, created by art & design students working with Randi Frye, assistant professor, will soon be on display in the Sease Wing and during heritage tours on campus.
President Manuel presented the Qualls with the inaugural map representing 1986.
"We hope it reminds you of this very special place that started your journey together and how you both have now impacted the University and our journey," Manuel said.