Porter County Career and Technical Center, Homestead High School earn top honors in 2018 IASB High School Broadcasting Competition Awards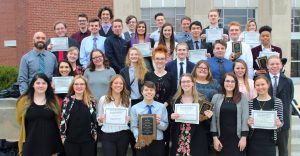 (INDIANAPOLIS) – Porter County Career and Technical Center won Television School of the Year and Homestead High School won Radio School of the Year at the 2018 Indiana Association of School Broadcasters (IASB) Awards Monday at the University of Indianapolis.

Homestead earned the honor for the second consecutive year, with two Homestead students, Cory Balkenbusch and Sydney Scholl, taking first and second place for Best Radio News Anchor. Students Tyree Jakes and Haynen Johnson from Porter County Career and Technical Center earned the top two spots in videography.
Nearly 900 students and instructors from 35 Indiana high schools and career centers attended the 15th annual IASB conference. Students participated in the IASB High School Broadcasting Competition and attended nearly 20 workshops that addressed topics including multimedia journalism, editing techniques, social media and sports broadcasting.
The top six radio air personalities and news anchors competed live on WICR-FM, and their television counterparts competed in the UIndy TV studio.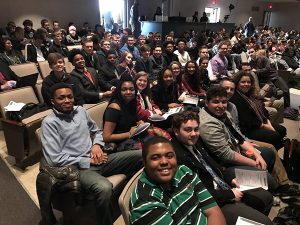 "Every year it becomes more difficult to judge this competition, not just because we continue to have a record number of entries from an increasing number of schools and career centers, but because the quality of the student work is incredible. There's no doubt that the future of broadcasting is very bright when you see what the next generation of broadcast professionals is already doing. Congratulations to the students and their instructors for their amazing work," said Scott Uecker, IASB President and Executive Director and University of Indianapolis Communication instructor.

Complete list of 2018 IASB High School Broadcasting Competition Award winners:
Student Multimedia Website
1.) Mila Vernon, Emily Huddleston, JHS Interactive Media Class, Jasper High School
2.) WHJE Staff, Carmel High School
3.) WCYT The Point 91, Homestead High School
Radio Interview
1.) Grant Covey, Ben Davis High School
2.) Michael Fulton and Xavier Freni, Southern Indiana Career and Technical Center
3.) Luke Rasberry, Ben Davis High School
Radio Sportscast
1.) Andrew Mamone and Michael Shetler, Wawasee High School
2.) Cory Balkenbusch, Homestead High School
3.) Garrett Willis, Homestead High School
Radio Spot Production
1.) Dumissa Dube, J. Everett Light Career Center
2.) Joe Swymeler, Cameron Kruger, Evan Cole, Homestead High School
3.) Michael Dewar, J. Everett Light Career Center
Radio Imaging
1.) 93.7 FM The Mix, Wawasee High School
2.) Radio/TV 2 Class, Jasper High School
3.) Kaelie Waggoner and Emma Peterson, Southern Indiana Career and Technical Center
Radio In-Depth
1.) Morgan Hackler, Franklin Central High School
2.) Abigail Boylan, Homestead High School
3.) Sydney Scholl, Homestead High School
Radio Drama
1.) Madi Yoquelet and PJ Yoquelet, Homestead High School
2.) David Gowan, Franklin Central High School
3.) Morgan Ashman, Franklin Central High School
Radio Play-by-Play
1.) Matt Schreck, Homestead High School
2.) Garrett Willis, Homestead High School
3.) Grant Covey, Ben Davis High School
Radio Sporting Event Broadcast
1.) Griffin Gonzalez, Ben McDonald, Sam Weixler, Ethan D'Eramo, Carmel High School
2.) Matt Schreck, Garrett Willis, Donnie Harmon, Homestead High School
3.) Grant Covey and Luke Rasberry, Ben Davis High School
Radio Talk Show
1.) Abigail Crothers and River Rice, South Bend Community School Corporation
2.) Jessica Walter and Ellie Davis, Homestead High School
3.) Dylan Rolfsen, Franklin Central High School
Radio Copywriting
1.) Olivia Smith, Franklin Central High School
2.) Drake Brooks, Southern Indiana Career and Technical Center
3.) Kyle Jeanor, Franklin Central High School
Radio News Anchor
1.) Cory Balkenbusch, Homestead High School
2.) Sydney Scholl, Homestead High School
3.) John Griffin, Carmel High School
Radio Air Personality
1.) Olivia Smith, Franklin Central High School
2.) Thomas Gismondi, Southern Indiana Career and Technical Center
3.) Makenna McLeod, Carmel High School
Radio School of the Year
Winner – Homestead High School
First Runner-Up – Franklin Central High School
Second Runner-Up – Southern Indiana Career and Technical Center

Television Spot Production
1.) Avery Bowman and Camron Ciampa, Whiteland Community High School
2.) Victoria Petriskey, Whiteland Community High School
3.) Alexis Creviston, Porter County Career and Technical Center
Music Video
1.) Meagan Brown, Lochlin Peters, Victoria Petriskey, Whiteland Community High School
2.) Eva Baez, J. Everett Light Career Center
3.) Karissa Wampler, Martinsville High School
Video Magazine
1.) Hannah Christy, Producer, Porter County Career and Technical Center
2.) RTV 2 Class, Martinsville High School
3.) PHTV Crew, Prairie Heights High School
Television Package
1.) Tyree Jakes, Porter County Career and Technical Center
2.) Evan Holland and Ben Land, Crown Point High School
3.) Demi Wilhelm and Drew Wiltberger, Carroll High School
Television School Newscast
1.) Staff of CPTV, Crown Point High School
2.) RTV 2 Class, Martinsville High School
3.) RTV2 Classes, Carroll High School
Video In-Depth
1.) Mitchell Moss, A K Smith Area Career Center
2.) Haynen Johnson, Porter County Career and Technical Center
3.) Armando Bracco, Crown Point High School
Live Event Broadcast
1.) BHS-TV and Extended Play Studios, Brownsburg High School
2.) Kollin Brunes and Sam Wilkinson, Western Boone Junior-Senior High School
3.) Payton Ball and Hannah Christy, Porter County Career and Technical Center
Corporate Video
1.) Evan Holland, Hannah Ragsdale, Mitch Bolda, Drew Zimmerman, Crown Point High School
2.) Kane Elkins, Prairie Heights High School
3.) Max Otto, Nolan Harmon, Caroline Theil, Jasper High School
Short Film
1.) Michael Ames, Kokomo Area Career Center
2.) Abigail Crothers and Luis Alverez, South Bend Community School Corporation
3.) Ted Piha, Morgen Ludwig, Sam Burkhard, Carmel High School
Video Show Open/Close
1.) Weston Pinnick and Dacotah Kuehne, Brownsburg High School
2.) Sylvia Badea, Porter County Career and Technical Center
3.) Jubilee Topps, Merrillville High School
Television Copywriting
1.) Hayden Phipps, Kokomo Area Career Center
2.) Sydney Scholl, Homestead High School
3.) Jason Gladney, Porter County Career and Technical Center
Videography
1.) Tyree Jakes, Porter County Career and Technical Center
2.) Haynen Johnson, Porter County Career and Technical Center
3.) Nicholas Holmes, Martinsville High School
Cinematography
1.) Carlos Perez, Wawasee High School
2.) Nick Morgan, Crown Point High School
3.) Hailey Kramer, Hammond Area Career Center
Sound Design
1.) Lauren Ritter and Dan McGannon, Lowell High School
2.) Cheyanne Montozzi, Porter County Career and Technical Center
3.) RTV 2 Class, Martinsville High School
Animation
1.) Grace Eckert, J. Everett Light Career Center
2.) Lochlin Peters, Whiteland Community High School
3.) Ellen Madinger, Carmel High School
Television News Anchor
1.) Mikaili Azziz, Walker Career Center
2.) Laura Ryle, Avon High School
3.) Stephen Abshire, Carmel High School
Television School of the Year
Winner – Porter County Career and Technical Center
First Runner-Up – Crown Point High School
Second Runner-Up – Whiteland Community High School