Enhanced summer class offerings accelerate student growth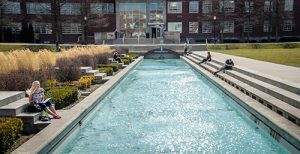 The University of Indianapolis has a variety of summer classes on offer for 2018, and it's not just UIndy students who can benefit. Students can choose from more than 200 classes in a variety of subjects, including general education courses eligible for transferable credit.

Summer term runs from May 15 to August 18, with options for face-to-face, online or hybrid classes. Most classes run for seven weeks over the Summer I and II sessions and cover a wide variety of disciplines, including English, history, biology, mathematical sciences and many more. The cost is $325 per credit hour.

Browse summer course offerings here.
Summer classes are an excellent opportunity for University of Indianapolis students who are looking to balance out their schedule or get caught up, or for visiting students home for the summer, said Mary Beth Bagg, Associate Provost for Academic Systems.
Bagg pointed out the advantages for student-athletes with tight in-season schedules or students who are anticipating a particularly challenging semester. Students participating in crossover programs, which combine the first year of graduate coursework with the student's final year as an undergraduate, can accelerate their time frame by enrolling in summer classes.

"Students can budget time and credit hours in a way that considers the ebb and flow of their studies," Bagg said.
Ellen Miller, Associate Provost for Research & Graduate Programs, explained that more students are taking advantage of summer classes to create the opportunity for double majors or an extra minor. She said academic departments examine summer enrollment data to make informed decisions about which classes to offer, including upper level as well as introductory courses.
"We've been looking at our constellation of offerings to identify key courses we should add. If a department knows there's always a course with a waitlist, we might offer a section of that in the summer," Miller said.
Miller noted that an increasing number of external students are enrolling in University of Indianapolis summer classes, providing UIndy students with the chance to gain perspective from new classmates. With a streamlined process for external students to apply for admission, those students should also check with their university's registrar to determine which credits are transferable. (See details here.) Current UIndy students do not need to apply for admission and may register for classes via MyUIndy.

With more course sections available in an online format, there is even more flexibility. Whether a student is from Indiana or out of state, online classes are an option that can be accessed from any location. Miller observed that students from all over the country are participating in UIndy's online programs during the summer.
"For UIndy students who are going home for the summer, wherever home may be, they can live at home and work, and still take an online class," Miller said. She noted that online classes tend to fill up quickly, as do on-the-ground science labs.
Miller urged students to start thinking about their summer coursework and apply now before classes fill up.
"It's a great way to catch up or get ahead," she said.
Schedule and deadlines (for most classes):

Summer I start date:  Monday, 5/14
Summer I end date:  Friday, 6/29
Deadline to add a 7-week Summer I course:  Friday, 5/18
Deadline to withdraw from a 7-week Summer I with a grade of W: Friday, 6/8
Summer II start date:  Monday, 7/2
Summer II end date:  Friday, 8/17
Deadline to add a 7-week Summer II course:  Friday, 7/6
Deadline to withdraw from a 7-week Summer II with a grade of W:  Friday, 7/27