Thought-provoking exhibit to challenge perceptions of sexual assault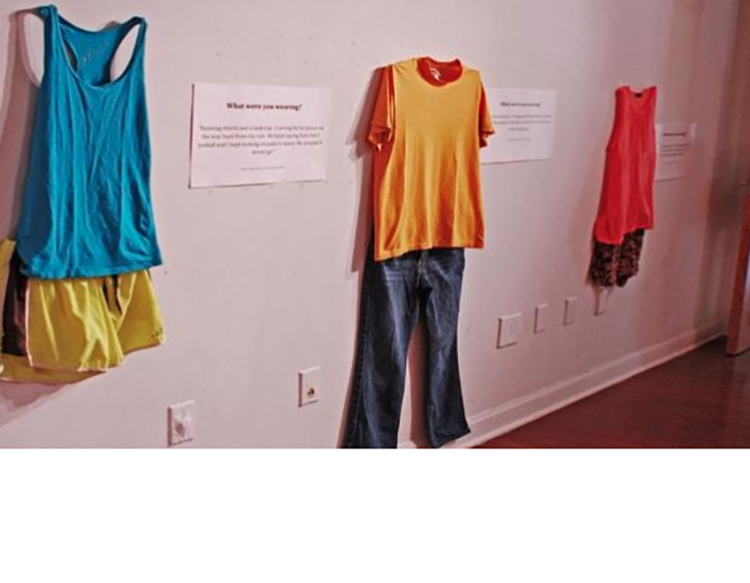 The University of Indianapolis begins April with a kickoff event and art exhibition opening for Sexual Assault Awareness and Prevention Month.
At 4:30 p.m., April 3 at the Pro Edge Center in Schwitzer, President Rob Manuel will join organizers and community partners for the opening of "What Were You Wearing?" an installation that explores survivor art.
The project originated at the University of Arkansas in 2013, and represents clothing worn by survivors at the time of their sexual assault. About two-dozen outfits will be on exhibit throughout the first floor of Schwitzer and the Health Pavilion. Created by Jen Brockman and Dr. Mary Wyandt-Hiebert, the project was inspired by Dr. Mary Simmerling's poem, What I Was Wearing.

Anne Moelk, the University of Indianapolis Title IX coordinator, said there are two key messages that she hopes will be conveyed by the exhibit and at events throughout the month: it's time to end "victim-blaming," and to understand how crucial it is to give or receive consent for sexual activity.

"It's important for people to stop asking the question 'what were you wearing' to victims of sexual assault. It doesn't matter. We also have to allow women to own their bodies and dress any way they feel comfortable and empowered. We have to stop judging the way women dress and equate it with their chances of becoming a victim of sexual assault," Moelk said.

The University is partnering with local crisis center Beacon of Hope, whose CEO Sandra Ziebold will attend the art exhibition opening on April 3 and whose advocates will be giving presentations on campus. Beacon of Hope advocates will be available at those events to provide support and access to resources.

Events throughout April include:
Speak about it
In partnership with Beacon of Hope
9:00 p.m., April 9, UIndy Hall A
L/P credit

Speak About It promotes healthy relationships through directly addressing issues of consent, sexual assault, and bystander intervention. The show sparks dynamic conversations amongst young people about sex and sexuality, and educates and empowers students to create and sustain change in the communities. Beacon of Hope advocates and the University of Indianapolis Counseling Center will provide resources for anyone in need of counseling.
Consent Game
4:00 p.m., April 13, Pro Edge Center
Consent Game is a Jeopardy-style game intended to encourage dialogue about consent and help students understand why consent is so important.
Understanding Sexual Assault as a Believer: Jackie Rhoads and Arionne Williams
Noon, April 18, Trustee's Dining Room
L/P credit (lunch provided)
Resources available
The University of Indianapolis offers multiple resources for faculty, staff and students to educate themselves and others, as well as report on matters concerning sexual misconduct. Students have access to resources that are completely confidential, such as the Health and Counseling Center or crisis centers, as well as assistance with filing formal complaints with the Office of Student Affairs or Campus Law Enforcement. Learn more.
UIndy PACT
UIndy PACT is a campus wide movement to increase awareness, concern and accountability in areas such as Sexual Violence, Relationship Abuse, Harassment and Violence Prevention, Sexual Well-being, Drug and Alcohol Awareness, Safety, Mental Health, Bystander Education and more. Join the moment and sign the PACT today and follow UIndy PACT on Facebook.
Reporting sexual violence
If you or someone you know is a victim of sexual violence, you are encouraged to get help. Please contact the Title IX Coordinator and/or Campus Police to discuss your options. It may be the responsibility of the University to investigate the crime. Remember that you can be as involved as you would like in the process, or not involved at all.
You may also report a case of sexual misconduct by completing the anonymous reporting form.  If you would like the information to remain completely confidential, please contact the Health and/or Counseling Center for consultation and further resources:
UIndy Title IX Coordinator
Anne Moelk
moelka@uindy.edu
317-788-2139
Schwitzer 210
Deputy Title IX Coordinator
Janet Robinson
robinsonjs@uindy.edu
317-788-2127
Campus Police
317-788-3386
911 (emergency)
Counseling Center
317-788-5015
Schwitzer 210
Health Center
317-788-3437
Health Pavilion, 1st floor

Beacon of Hope Crisis Center
6920 S. East Street, Suite B
Indianapolis, IN 46227
Admin Line:  317-731-6131
Crisis Line:  317-731-6140