April packed with community engagement and service-learning activities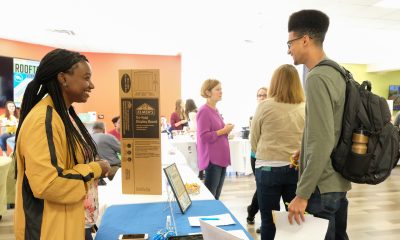 April is a busy month at the Center for Service-Learning & Community Engagement, and there are many ways to get involved.

As an anchor to the south side of the city and as a leading institution in service-learning, center director Marianna Foulkrod said it is critical that the University of Indianapolis continues to celebrate the many collaborations that provide opportunities for students, faculty and community partners to engage with one another.

"Being the last month of the second semester, April is the month that we dedicate to celebrating all the great outcomes of the many city-wide collaborations as well as sharing the many stories of outstanding students and community partners who are dedicated to enhancing their experiences through service-learning on our campus," Foulkrod said.

Here's a quick rundown of events!

April 3:  Indiana Campus Panel Conversation on Carnegie Classification,
2- 5 p.m., Health Pavilion
Contact mfoulkrod@uindy.edu for information.
"Applying for Carnegie's Classification in Community Engagement" is a discussion among universities who are sharing their experiences and lessons learned applying for the Carnegie Classification.
Confirmed panelists:
o   Indiana State University: Heather Dalton-Miklozek & Nancy Rogers
o   Purdue University: Steve Abel
o   Butler University: Donald Braid
o   University of Indianapolis: Marianna Foulkrod & Mary Moore
o   IUPUI: Julie Hatcher
April 4: SOS Workshop,
12:10-12:50 p.m., Schwitzer Student Center 010
Students will learn about the many ways that service and service-learning are implemented around the world. This is a presentation that exposes students to the understanding and approach of civic responsibility internationally/globally versus in the United States. L/P credit available.
April 21: Service-Learning Academy, Schwitzer Student Center
9:00 a.m.-3:30 p.m.Trustees Dining Room
Register here.
This faculty workshop will introduce participants to service-learning and community engagement with a brief overview and history of the field and best practices for course construction. Participants will engage in conversation and hands-on-activities to develop learning outcomes that can be directly connected to their community-based projects. Tips for including reflection and assessment techniques will also be shared. Additionally, participants will have the opportunity to network with a variety of local community organizations who are interested in partnering with UIndy faculty and students.
Come prepared to share information about your course goals and how you envision creating a lasting, reciprocal partnership focused on common outcomes.  Finally, participants will work with consultants from Indiana Campus Compact to begin developing or refining a service learning course. Participants are encouraged to bring a course syllabus and/or any community-based project assignment document to the workshop.

The workshop will be led by Laura Weaver, M.S. Ed., the director of programs and member development at Indiana Campus Compact, where she provides training on and support for the institutionalization of community engagement practices to more than 43 institutions of higher education across Indiana. In this capacity, Weaver assists faculty with their teaching and engaged research activities involving reciprocal community-campus partnerships, and supports students in implementing an array of engagement activities. She directly manages the Faculty Fellows learning community, Student Social Innovation Microlending program, Engaged Campus Grant initiative, Pen to Paper Writing Retreat, and Connecting Campus with Communities Conference. Weaver has served as a Research Fellow for the Campus Compact Project on the Community Engagement Professional and has published several articles related to her work on the institutionalization of community engagement.
Upon completion of the Academy participants will receive the UIndy 2017-18 Service Learning Academy Completion Certificate. Certificates will be presented at the upcoming UIndy Community Campus Forum on Wednesday April 25th from 11am-1pm in the Student Center, UIndy Hall.
April 25: Community Campus Forum
11:00 a.m.-1:00 p.m., UIndy Hall A
An event that brings together the UIndy community (faculty, staff, and students) with the community agency partners to celebrate the many ways that they engaged in service, learning and teaching throughout this academic year. At this event the Center also presents the Student Service-Learning and Outstanding Community Partner of the year awards. Read about the 2017 Community Campus Forum.
April 28:  Perry Cultural Festival,
10 a.m. – 3 p.m., Baxter YMCA, 7900 Shelby St.
The University of Indianapolis is a proud co-sponsor of the Perry Cultural Festival, an annual celebration of the diverse cultures present in our community. Through a day of family-friendly fun and learning, the festival activities highlight the collective and individual roots of the residents of Perry Township.
In 2015, Perry Township community leaders met to discuss the diversity in our area. Over the past several years, we have welcomed an astounding influx of immigrants and refugees into the south side. Our conversation led us to develop a way to celebrate our collective and individual roots, and the Perry Cultural Festival was born. Last year a partnership between Perry Township Schools, the Baxter YMCA, and the University of Indianapolis was formed, and this year, the partnership has been strengthened several fold.
This year's theme is "Uniquely United" with a continued emphasis in education on how cultures around the world welcome others. Our day of celebration at the Baxter YMCA includes entertainment, music, food trucks, crafts, art, essays, and much more!
Learn more about the Center for Service-Learning & Community Engagement's programs and activities.