Five things you didn't know about Joshua Morrison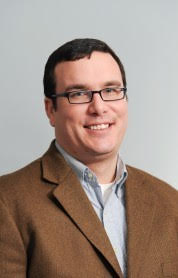 Joshua Morrison joined the University of Indianapolis in March as director of the Center for Advising and Student Achievement. His hometown is Springfield, Missouri. After graduating from Missouri State University with a bachelor of arts in philosophy in 2001, his first job was Residence Director at the University of Indianapolis. He's traveled and spoken with students as far afield as India and Finland.
1. Tell us a little about your background and areas of interest.
Academic advising is my life's work, though I came to the field through a somewhat circuitous route. I was highly involved as an undergraduate and worked in residence life, disability support services, and TRiO programs. My first position out of college was with UIndy as a Residence Director. Though I learned a lot, I realized at UIndy and through my graduate program that a career that was more closely aligned with academic success and degree completion was my calling. I hold a Master of Science in Education degree in Student Affairs Administration from Indiana University, and am a PhD candidate at IU in the Higher Education program. My academic interests include academic advisor development, policy studies (specifically, implementation), and organizational behavior and leadership.
2. What's the most rewarding part of your job?
That's a tough one! As Director of the Center for Advising & Student Achievement, the most rewarding part is being a champion for our staff and helping them grow and develop into even more effective, professional academic advisors. I like to think of our investments in staff as force multipliers, where we continually improve in the work we do with students, to engage them in authentic, meaningful ways that support their academic, career, and personal goals.
3. What's something people might be surprised to know about you?
There are two of me! Well, sort of. I'm a twin. My brother, Dan, is a faculty member at Vanderbilt University in Nashville, TN.
4. What do you like to do in your free time?
With a three-month-old baby girl at home, there isn't a lot of free time to be had! I do enjoy reading nonfiction books, mostly on creativity, innovation, and organizational change, as well as American and world history.
5. Do you have any favorite spots (museums, restaurants, other attractions) in Indianapolis? 
The Indianapolis Children's Museum is really a gem in the city. Siam Square, the Thai restaurant in Fountain Square, is a must-visit. For a wide variety of exhibits as well as beautiful green space, Newfields, formerly the Indianapolis Museum of Art, is a great place to visit year round.
Bonus questions:
If you could go back in time and give your younger self a piece of advice, what would it be?
Often in high school I was accused of being a 40-year-old in a much younger body. So, the advice would be – Don't take yourself so seriously!
Favorite thing about UIndy so far?
Being one who has returned to the Greyhound family after about 15 years, it remains the people and their commitment to students. I'm constantly refreshed and engaged by the CASA staff and their focus on serving every student and supporting their success.