University of Indianapolis honors legacy of Dr. Martin Luther King, Jr.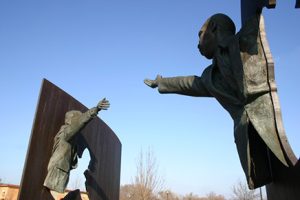 The University of Indianapolis is a proud partner of the Kennedy-King Memorial Initiative, which is organizing events commemorating the 50th anniversary of Dr. Martin Luther King, Jr.'s death, and his lasting legacy.
The Initiative was established to elevate and preserve the values and legacy of Robert F. Kennedy and Dr. Martin Luther King Jr. by raising awareness, provoking thought and inspiring action to eliminate division and injustice. April 4, 2018 will mark 50 years since the loss of Dr. King, and Robert F. Kennedy's historic Indianapolis speech.
The University's Office of Equity & Inclusion has been working closely with the Initiative with the goal of becoming a catalyst to move conversations and action forward in Indianapolis.

"As a higher education institution, the University of Indianapolis serves as a model for social justice, a think tank for social consciousness and a space for intellectual discourse and debate. As such, we are uniquely positioned to help convene conversations that extend the work of Dr. King and others who have fought tirelessly for the inclusion, equity, and equality of all people," said Sean Huddleston, vice president for the Office of Equity and Inclusion.

University of Indianapolis students will be volunteering at events throughout the city this week.

See all events here.

On April 3rd, for National Service Recognition Day, the University will join communities across the country to host the annual AmeriCorps and SeniorCorps National Service Day Recognition Luncheon, sponsored by the Kennedy-King Memorial Initiative and the Mayor's Office. The Deputy Mayor will attend on behalf of the office, and President Robert L. Manuel will provide remarks. The luncheon will be held in UIndy Halls B & C in the Schwitzer Student Center at the University of Indianapolis.

Off-campus events:

April 3: A Ripple of Hope
5:30 p.m.: Reception, 7 p.m.: Screening, 8 p.m.: Panel
Eugene And Marilyn Glick Indiana History Center, 450 West Ohio Street
This acclaimed documentary by filmmaker Don Boggs sheds light on the fateful night of April 4, 1968 in Indianapolis. If you've seen this definitive take on this historic moment, now is the perfect time to revisit the powerful true story. If you've never seen it, now you can. Enjoy a pre-film reception and the film,  A Ripple of Hope (2008, 55 mins.) — followed by a panel discussion.

April 4: Still We Reach: Community Reflection & Conversation
10:30 a.m.
Landmark For Peace Memorial, 1702 N Broadway Street
Congressman, author and civil rights pioneer John Lewis joins with Kerry Kennedy, president of Robert F. Kennedy Human Rights and daughter of RFK, and other national and local dignitaries, for reflections on the lasting influence of these two men.
April 4: Still We Reach: KKMI 50th Commemoration Ceremony
5:00 p.m.
Landmark For Peace Memorial, 1702 N Broadway Street                    
Join national and local dignitaries for the official commemoration event, featuring songs, remarks and remembrances by civic leaders, religious leaders, artists, and more.
*Tickets to both 50th anniversary commemoration events on April 4 are sold out. You can live stream the 10:30 a.m. event from any computer or mobile device using this link: http://ow.ly/FTqa30jgrY0