University of Indianapolis meets growing national need with Addictions Counseling masters and certificate programs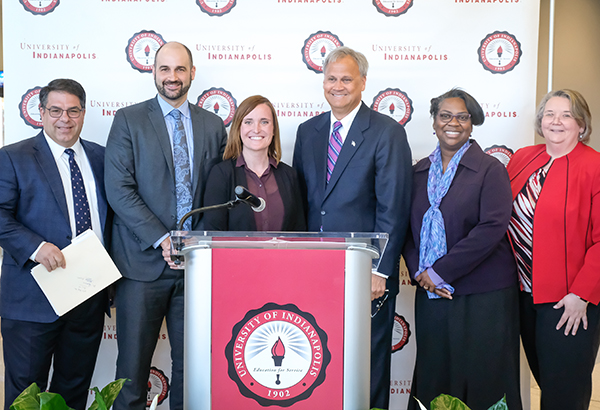 INDIANAPOLIS – The University of Indianapolis is supporting the nationwide fight against addiction with the introduction of two new graduate programs in Addictions Counseling.
The Master of Arts in Addictions Counseling and the Interprofessional Certificate in Addictions fill a growing need locally and nationally to combat the addiction crisis. According to data from the National Institute on Drug Abuse, abuse of tobacco, alcohol, and illicit drugs adds up to more than $740 billion annually in costs related to crime, lost work productivity and healthcare.*

"The University of Indianapolis recognizes the urgent need to address addiction and the toll it takes on communities in Indiana and throughout the nation. These programs offer students the opportunity to develop the professional skills necessary to reverse the effects of addictions and to help patients lead healthy, fulfilling lives," said University of Indianapolis President Rob L. Manuel.

The Master of Arts in Addictions Counseling at the University of Indianapolis provides an interdisciplinary focus that blends psychology, social work, and counseling into a complete behavioral healthcare curriculum. The Interprofessional Certificate in Addictions provides unique training in addictions and highlights a holistic approach that emphasizes interprofessionalism.
"Medical providers have the opportunity to learn about counseling, and social workers and counselors can learn about medical and drug management. The curriculum is designed to help all students view their work with patients holistically," said Norma Hall, School of Nursing dean.

"The curriculum for the certificate was built following research from the National Institute on Drug Abuse which shows greater improvement when health and behavioral health approaches are combined with employment and family components," said Anita Thomas, College of Applied Behavioral Sciences dean.

The University of Indianapolis Master of Arts in Addictions Counseling will prepare individuals interested in working with clients diagnosed with substance abuse. No specific prerequisites are needed, and graduates become eligible for an addictions counselor license.

Learn more about the program.
*NIDA Trends & Statistics, 2018
About the University of Indianapolis
The University of Indianapolis, founded in 1902, is a private, liberal arts university located just a few minutes from downtown Indianapolis. UIndy is ranked among the top Midwest Universities by the U.S. News and World Report, with a diverse enrollment of more than 5,500 undergraduates, 1,300 graduate students and 400 continuing education students. The University offers a wide variety of study areas, including 100 undergraduate degrees, more than 35 master's degree programs and five doctoral programs. With strong programs in the health sciences, engineering, business and education, UIndy impacts its community by living its motto, "Education for Service." www.uindy.edu.