The Indianapolis Quartet To Perform A Program Of "Firsts" April 20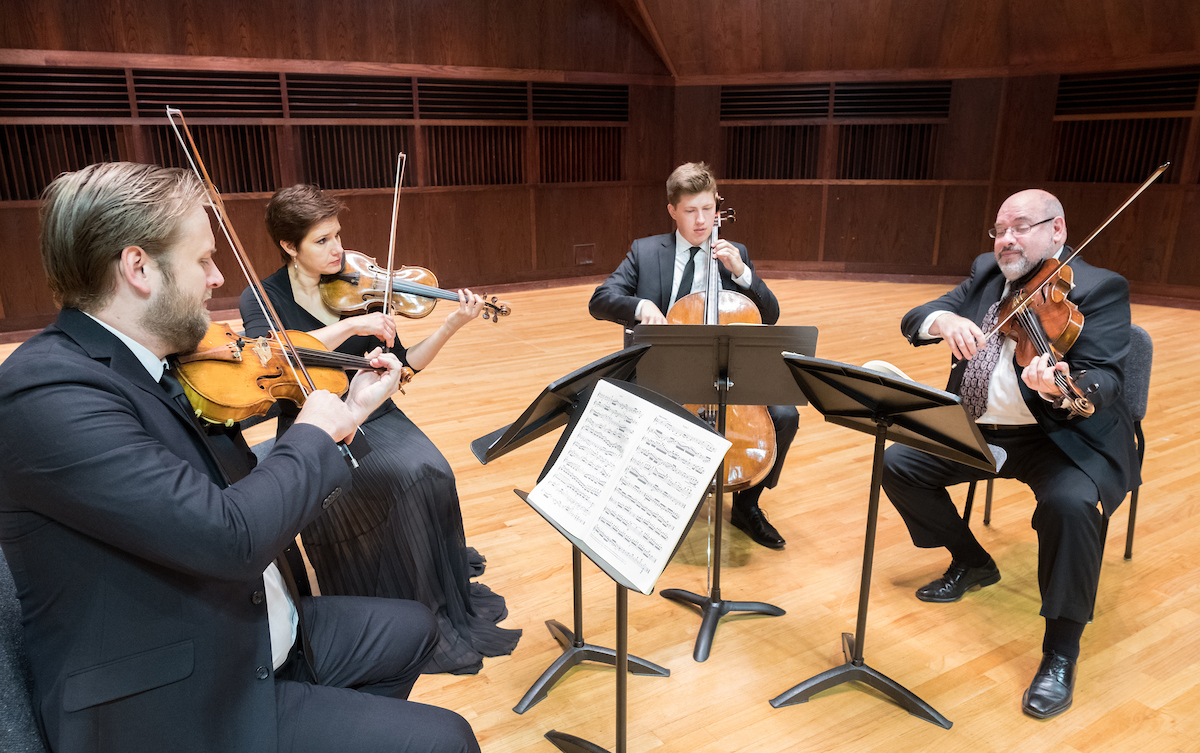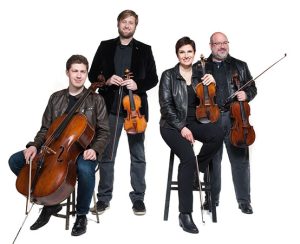 Quartet-in-Residence at University of Indianapolis appears at Christel DeHaan Fine Arts Center
The Indianapolis Quartet will perform at the University of Indianapolis' Christel DeHaan Fine Arts Center at 7:30 p.m. on Friday, April 20, 2018. Fresh from their Chicago debut in March, the Quartet's program includes Beethoven's F major quartet, Op. 18, No. 1; Shostakovich's C major quartet No. 1, Op. 49; and Debussy's only contribution to the genre written in 1893. The concert, part of the Faculty Artist Concert Series sponsored by Katz, Sapper & Miller, will take place in the Ruth Lilly Performance Hall. Admission is free and open to the public. See details here.
Watch the Quartet perform live in studio on Indy Style (April 17)
The University of Indianapolis is home to The Indianapolis Quartet (TIQ), an elite ensemble of widely acclaimed musicians whose global reputations and history of performance successes have established the ensemble as a quintessential example of musical excellence in the Midwest. Founded in 2016 through a collaboration between esteemed university faculty and the Indianapolis Symphony Orchestra, TIQ has since performed to capacity crowds and continued the tradition of artistic and cultural significance at the University of Indianapolis. Jay Harvey writing for "Upstage" praised the ensemble: the "Indianapolis Quartet sounds supremely well-established."
The talents of TIQ's members are impressive in their own right. Known for his virtuosic, high-energy performances, violinist Zachary De Pue successfully balances his roles as Indianapolis Symphony Orchestra concertmaster, soloist, chamber musician, and fiddler. Bulgarian native Joana Genova has an active career as a chamber musician, orchestral player, teacher, and soloist. She formerly served as concertmaster of the Amsterdam Bach Consort and was a member of Amsterdam Sinfonietta before establishing herself in the United States. Violist Michael Isaac Strauss performs around the world as a solo, chamber, and symphonic musician, and was formerly principal violist of the Indianapolis Symphony Orchestra for 20 years. He now serves on the faculties of Youngstown State University and the University of Indianapolis. Award-winning cellist Austin Huntington made his solo orchestral debut at the age of ten and at twenty he was appointed principal cello of the Indianapolis Symphony Orchestra, currently making him one of the youngest principal musicians in a major American orchestra.
TIQ has performed with highly acclaimed guest artists on their University of Indianapolis series during the past two concert seasons. Among them are pianist Orli Shaham in the Brahms piano quintet, cellist Mark Kowsower in the Schubert string quintet, and clarinetist Todd Palmer in the Mozart clarinet quintet.
The 2017-18 season has seen the Quartet expand its scope to regional and national audiences including an appearance at the Taconic Music Summer Festival in Manchester, Vermont July 13 and 14. A future collaboration planned for 2019 with composer Robert Paterson will allow the quartet to expand its repertoire and reach new audiences through its unique emotional performing style.
CONCERT DETAILS:
The Indianapolis Quartet
Zachary De Pue and Joana Genova, violin
Michael Isaac Strauss, viola
Austin Huntington, cello
Friday, April 20
7:30 p.m.

Christel DeHaan Fine Arts Center—Ruth Lilly Performance Hall
University of Indianapolis
1400 East Hanna Avenue
Indianapolis, Indiana 46227
FREE ADMISSION
Reservations suggested. Event Ticketing Center: 317-788-3251
The Indianapolis Quartet performs a program of "Firsts"—Beethoven's first published string quartet written in 1799 (Op. 18, No. 1); Shostakovich's first quartet written in 1938 (Op. 49); and Debussy's only quartet written in 1893.