Next stop: Yale for Mara Hofstetter '18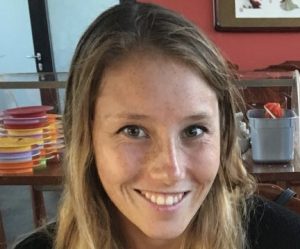 Before Mara Hofstetter '18 heads to Yale University in the fall, she'll be working at Eli Lilly during the summer for an internship. A double major in chemistry and mathematics, Hofstetter will pursue a Ph.D. in chemistry with a focus in chemical biology at Yale. Hailing from Ascona, Switzerland, Hofstetter was also a student-athlete on the Greyhounds women's tennis team. In this interview, she spoke about the factors that contributed to her success at the University of Indianapolis.
How did your extracurricular activities enhance your UIndy experience?

"My time on the tennis team helped me stay organized, since my day would be pretty full with a double major and practice. It especially helped me to grow as a person. [Women's Tennis Head] Coach [Malik] Tabet and my teammates always supported me and challenged me to improve in all what I do. This helped and will help to manage difficult situations that I will encounter in the future."
Who were some of your mentors?

"Dr. [Krysi] Leganza, my mathematics professor, Dr. [Levi] Mielke, and Dr. [Kathy] Stickney, both chemistry teachers, have contributed the most to my time at the University of Indianapolis. Dr. Leganza always had an open door, not only for mathematical difficulties but also for personal issues. She helped me to make the right decision to what university I should go to for my graduate studies and what factors are important to take into consideration when choosing your future graduate school."

"Dr. Mielke and Dr. Stickney enabled me to build my knowledge to be a well-rounded person. Dr. Mielke is a great teacher who supports you in everything. He is currently my supervisor in my research in chemistry about glyphosate. Dr. Stickney helped in organizing my great time here at the University of Indianapolis and most important, she helped me finding an internship position last summer, which allowed me to get experience outside the classroom."
"Coach Tabet and my teammates, especially Chloe Weihs, helped me to grow as a person and embrace challenges in life. To never give up and fight for what you want. They pushed me when I could not anymore, they supported me, this helped me to never give up when facing a problem."

"Lastly, Nils Hoffacker, a student here at UIndy and my boyfriend, had the greatest impact on my life and success. He helped me all my four years in college, he supported me, he believed in me, and he enabled me to reach my dreams to go to an Ivy League graduate school. His influence and positivism were very crucial. I think everyone needs someone who supports you no matter what."
Slideshow: Meet the Class of 2018!
Why would you recommend UIndy?

"UIndy gives you everything you need to have to succeed. The small classes allow you to have instructors who follow you closely and allow you to build a relationship with them because they care for you to succeed. The atmosphere on campus is just great. It allows you to find a new home with a lot of friends and faculty who will influence your life in a great way."