New community garden project at University of Indianapolis enhances healthy options for neighborhood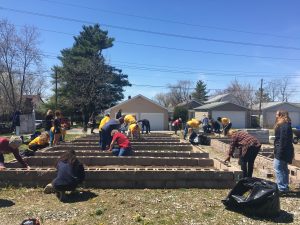 With gloves and shovels in hand, volunteers got to work on a community garden on the University of Indianapolis campus, with the goal of bringing access to fresh produce to the surrounding neighborhood. The UIndy and CHNw Community Garden (Serve360°) project is part of an ongoing partnership between the University of Indianapolis and Community Health Network to provide health- and wellness-related opportunities to the Indianapolis southside.
The garden is located on the west side of the United Methodist Church at 4002 Otterbein Ave. From 1 to 5 p.m. on Friday, April 20, volunteers from the University of Indianapolis, Community Hospital South, Purdue Extension and South Indy Quality of Life Plan cleaned nine raised garden beds, glued the bed's cement blocks, shoveled and spread dirt, pulled weeds, and did some planting. 
"We know that social determinants, like a lack of access to nutritious food, can affect overall health and well-being," said Priscilla Keith, Executive Director of Community Benefit for Community Health Network. "We are proud to work with our partners at UIndy to offer this pilot program which will not only provide access to fresh and affordable food; but educate students and those living in neighborhoods around the UIndy campus how to start and maintain their own gardens.  Our goal is to find ways to reach beyond our sites of care to impact the health and the quality of life of the communities we serve."
Gurinder Hohl, who directs the partnership between the University of Indianapolis and Community Health Network, said the project is highly focused on meeting community needs, including a planning committee that involves local residents. Hohl said food grown in the community garden will be available to community members and gardeners at no cost. While University of Indianapolis students will manage the garden for the first year, Hohl said community members are encouraged to take on leadership roles as the garden becomes a focal point for the neighborhood.
"The location of this garden was chosen based on its proximity to the proposed Red Line station on Shelby Street. The more you decrease access-related issues, the more people will get involved," Hohl said.
Project planners hope to expand activities to include a farmer's market, cooking classes, health assessments, musical performances and art displays.
"It's about placemaking where you try to create opportunities for neighbors to mingle and have access and options related to food and health that they would not otherwise have," Hohl explained.
The University and Community Hospital South are working in collaboration with the South Indy Quality of Life (QOL) Plan on the garden project, which ties into the Plan's Health & Wellness initiative (and is one of 173 action steps identified by the Plan to create thriving households and healthy communities in eight neighborhoods on the Indianapolis southside). Michelle Strahl Salinas with the South Indy Quality of Life Plan explained that the Health & Wellness action team aims to bring healthier food options to residents, and to make sure they are accessible, affordable and locally sourced.
"The University of Indianapolis has been very intentional about working with the neighborhoods around the University. We believe that having UIndy as a lead and collaborating partner on our action teams brings us a knowledge base and diversity that we would not have otherwise," said Salinas, who added that the QOL plan depends on volunteer and partner-led projects like the community garden.