Center for Aging & Community's Ellen Miller honored as UWCI 100 Heroes recipient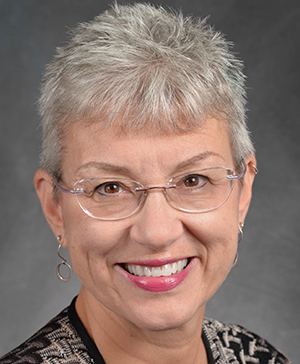 Ellen Miller, executive director for the Center for Aging & Community, will be honored as a United Way of Central Indiana's 100 Heroes recipient at United Way's special 100th Anniversary Celebration at the Indianapolis Motor Speedway on Friday, April 20.
The project celebrates 100 heroes from the central Indiana community as part United Way of Central Indiana's 100th anniversary celebration in 2018. Honorees are nominated by their peers, family members, co-workers, and friends and chosen by a nine-member volunteer committee.

From UWCI 100 Heroes:
If Dr. Ellen Miller had one wish for the future of the Central Indiana, she would wish for a more unified effort to identify and address ageism and age discrimination. "As a society we tend to be very conscious of the different "isms" – racism, sexism, etc., but often ageism is something that isn't as talked about."
As associate provost at the University of Indianapolis and executive director of the university's Center for Aging & Community (CAC), Miller has worked across the state of Indiana to influence policy, implement best practices and change the perception of aging. Under Miller's direction, CAC has worked to improve the quality of life for Hoosiers who live in long-term care facilities through a series of ISDH-funded quality improvement efforts, which have led to national recognition, decreased health care costs and improvement in health outcomes.