New Health Pavilion clinics open their doors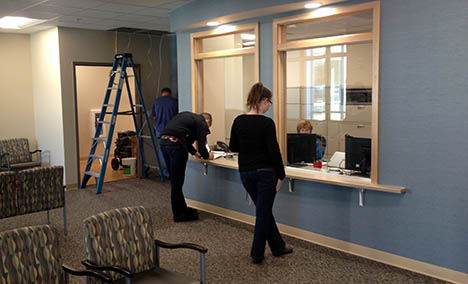 With some final touches still in the works, the new UIndy Health and Wellness Center was seeing a steady stream of patients Thursday.
Community Health Network staffers include UIndy alumni
This week saw the official opening of two clinical spaces in the new Health Pavilion, where the university is partnering with Community Health Network to provide care for patients and clients while creating experiential learning opportunities for students.
The new Health and Wellness Center in Suite 108, which combines the student and employee services previously available at the Student Health Center and Koval Center, saw its first 30 patients Wednesday, said Kory Vitangeli, Dean of Students and VP for Student & Campus Affairs.
The personnel include staff nurse-practitioners Lynn Moran, Vicky Swank and Barbara Kelly, and the cooperating physician from Community Health Network is Dr. Randall Lee, a 1972 UIndy graduate who is donating his time to the effort. Appointments are free to the UIndy community, with minimal charges for medication, vaccines and other needs. The hours are 8 a.m. to 4:30 p.m., and the menu of services will continue to expand.
Community Health's Physical Therapy and Rehab-UIndy clinic opened Monday in Suite 107, serving network clients initially on Mondays and Thursdays and soon to expand through the week. Its services include general orthopedic therapy as well as neurological, hand and sports injury rehabilitation. Staffing the space are Community Health Network physical therapists Jeff Mestrich and Matt Redshaw. Mestrich, a certified and licensed athletic trainer, holds two UIndy degrees: a BS in Athletic Training from 2000 and an MS in Physical Therapy from 2002. Redshaw, a certified strength and conditioning specialist, earned his Doctor of Physical Therapy degree from UIndy in 2007.
Also housed in the Health Pavilion is the School of Psychological Sciences' Psychological Services Center, where faculty and advanced graduate students provide comprehensive evaluation and outpatient therapy services to individuals, families and organizations.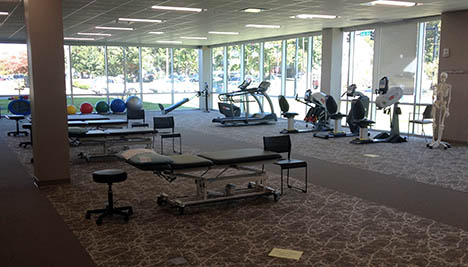 Community Health Network's Physical Therapy and Rehab-UIndy is now open two days a week and soon will expand its hours, offering a range of services.