One on one with senior Karli LaGrotte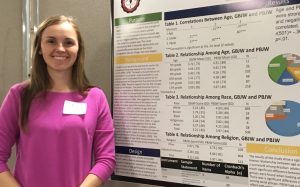 Karli LaGrotte '18 (psychology major, sociology minor) had her choice of where to pursue her doctorate in psychology – she was accepted into three different programs! She reflects on her time at the University of Indianapolis as she prepares to graduate.
Q. What are your plans after graduation?
A. In the fall, I will be pursuing a doctorate degree in Clinical Psychology at the Chicago School of Professional Psychology in Chicago, Illinois.
Q. How did your academic program help you develop your professional skills?
A. Undergraduate research helped me develop skills such as critical thinking, interpersonal skills, and presentation skills.  Through undergraduate research, I learned how to talk to any type of person, whether it is a student or faculty member. I became extremely comfortable in talking with faculty which definitely helped when it was time for me to interview for graduate school.
Q. Were you involved in any extracurricular activities as a student?
A. I was a member of the women's golf team. That experience taught me valuable skills such as hard work, discipline, selflessness, time management and excellence.
Q. Were there any faculty, staff or fellow students who helped you during your time as a student at UIndy?
Dr. Kendra Thomas: I participated in undergraduate research with her and she helped me develop important skills such as critical thinking, interpersonal skills and presentation skills.
Dr. Amanda Miller: I took two sociology courses with her and through her classes, I developed a love for sociology.  She is a role model for me and someone I respect greatly.
Dr. Mixalis Poulakis: I took my first ever course at UIndy with him, so he has helped me since day one.  He is a great mentor, always offering advice and being there for me.
Q. Would you recommend UIndy to prospective high school students?  
A. Yes, I would because of the excellent faculty.  I will miss them once I graduate. My advice to incoming freshmen would be to take advantage of opportunities and focus on developing relationships with faculty.  The faculty are so welcoming and helpful. University of Indianapolis is lucky to have such great faculty!
Q. Any other big takeaways or observations as you approach graduation?
A. I very much enjoyed my academic experience at this school.  It has been so rewarding and I have met wonderful students and faculty!